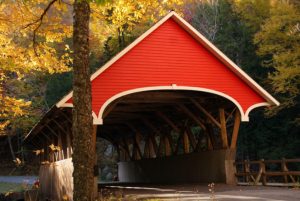 Last month, we wrote a blog about the many ways you can enjoy the spectacular hues of fall. There's still time to enjoy this year's fall foliage, but the season is rapidly coming to an end. This month, we'd like to take a different look at another favorite activity during these colorful fall months, and that is visiting the region's covered bridges. The covered bridges of the White Mountains are beautiful any time of year, but fall is simply magical. Covered bridges provide photographers with stunning natural settings, especially when surrounded by the vibrant reds, oranges, and yellows of fall. But, more than that, these bridges remind us of a simpler past. Whatever your reason is for touring New Hampshire's delightful covered bridges, we'd love to share it with you. Book your room at the Sugar Hill Inn Bed and Breakfast this fall, and enjoy the final days of this incredible season.
Photograph These Covered Bridges
No one really knows why covered bridges were originally built, but we can certainly all agree that they are charming reminders of our shared past. Some think the covered bridges made it easier for horses to travel across them, and others think they are just examples of fine craftsmanship. At some point in history, covered bridges were called "courting bridges," but each of them have their own unique character and scenery. Here are 13 of the most beautiful covered bridges in New Hampshire. Which one is your favorite?
Within 30 minutes drive:
Within an hour's drive north/northeast:
Within an hour's drive east:
Within an hour's drive south/southeast:
More than an hour's drive away:
If you're short on time, the Flume Covered Bridge, Sentinel Pine Covered Bridge, and the Bath Covered Bridge are all extraordinary. However, if you have some time on your hands, spend the time to visit at least a few of these other bridges. They all make for a wonderful day trip through the extraordinarily different and beautiful regions of the White Mountains, especially during the colorful months of fall.
However you spend your days, come home to the luxurious accommodations at the Sugar Hill Inn Bed and Breakfast. We are known for our fine dining, original art, stylish guest rooms and cottages, and extraordinary hospitality. Rooms tend to book up fast during these beautiful fall months. Book with us today, and don't miss your chance to enjoy fall in the White Mountains.