Our Team!
Committed to making Sugar Hill Inn the most welcoming and enjoyable place to stay in Northern New Hampshire!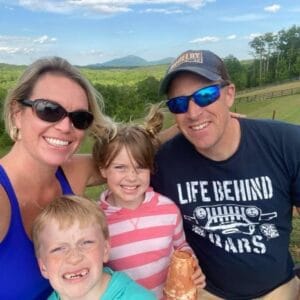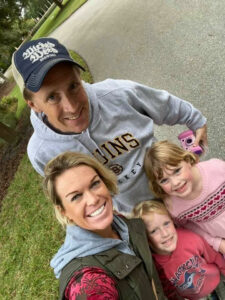 Owners
Chris Chesley & Kierstin Newcombe
We are so happy to welcome you to the Sugar Hill Inn! Since taking over in December of 2021 we have had nothing but wonderful experiences with our guests. As native New Englanders, we are excited to return home after over a decade of being away. Sugar Hill is one of those northern New England gems and we could not be more thrilled to be integrating ourselves into this community.  
Kierstin grew up in Manchester, NH, while Chris grew up in western Maine. After getting married in New Hampshire, they spent seven years in Traverse City, Michigan, where they started a family and Kierstin found a new passion working in the robust local wine industry. Trading in the beaches of Lake Michigan for the Gulf Coast, they spent three years in Sarasota, Florida. At the end of three years, Chris decided to retire from a 20 year career as an independent school administrator and contemplate what came next. Before getting involved in education, Chris had spent 10 happy years working in restaurants and working every position from server to restaurant manager. While it took a few months to chart a new course, the opportunity to take over the reins of a premier Inn and restaurant in the White Mountains of New Hampshire was a perfect fit. This new endeavor also meant that all of our work throughout our careers was being put to good use. As owners, we look forward to bringing a wealth of ideas from our travel to continue to provide the best experience for our guests and expand opportunities for local residents to come together, get to know us, and enjoy everything that we and the area have to offer. Elin (9) and Leif (7) look forward to growing up as Northern New Englanders, learning to ski/snowboard, and being close to relatives.

Culinary Team
The Sugar Hill Inn is proud to have an accomplished culinary team. We could not provide such service without our Chefs,  Collin and Steve. Our dynamic duo has worked extensively in the area at venues like the Horse and & Hound, the Adair, the Woodstock Inn & Brewery, and the Loon Mountain Club. Collin and Steve are a true team who both enjoy preparing high quality food and crafting creative and delicious dishes from scratch. Even with all of their experience, they are ever curious when it comes to food and continually put together new variations on traditional dishes and unique pairings that provide our patrons with a unique dining experience.
Innkeeper
Former Owner, Steve Allen (1952 -2020)

Originally from Caldwell, New Jersey Steve has many passions most of which consist of drinking espresso, shopping for wine, and traveling to places that also make wine. When he isn't shopping for, or traveling to wine, he is watching a DVD about the wine making process.  After a 9 day adventure across Kentucky to tour as many distilleries as possible Steve's newest interest is bourbon.
He is a gourmet and a graduate of the French Culinary Institute in New York City. Steve is also a graduate of the University of Denver, William and Mary, and he holds a certificate in financial planning, and a computer programming certificate circa the Nixon administration.
Steve loves and is a true geek for business books. He has read every single book about hotel management on the shelf at Barnes & Nobles. In the 5th grade, Steve delivered a book report on Conrad Hilton and his future became a little bit clearer.  Steve can tell you the complete history of the Ritz Carlton, the Four Seasons, Marriott, and Hilton.
In 2006, Steve purchased the Sugar Hill Inn even though it had holes in the walls, no air conditioning, and his family was slightly concerned. Moving from New Jersey to New Hampshire is no small change.  It is his vision that is seen in the refurbished guest suites, public areas, and the restaurant.   The Sugar Hill Inn is Steve's  slice of paradise even when that means shoveling snow in a blizzard or getting up at the crack of dawn to make fresh muffins.
Owner, Steve Allen, has written a book about his experiences at the Sugar Hill Inn  and it is now available from Amazon and Barnes and Noble.  This is a fun read for anyone who enjoys staying at Country Inns, Bed and Breakfasts or Boutique Hotels.