History of the Sugar Hill Inn
The Sugar Hill Inn started as a small farmhouse built by the Oakes family in 1789. As one of the early settling families in the Sugar Hill area, they are counted among the score of hearty and independent folks who came into the White Mountains of New Hampshire in search of a better life. This traditional New England house was built of post and beam construction and relied on handsome fireplaces in the principal rooms for heat.
In 1924, when a large addition to the original house was added, it began operation as the Caramat Inn. In the 1950's three two-room cottages were built in a cluster on a knoll just west of the main building. Some of the area's most breathtaking views can be seen from these guest rooms and porches. In 1972, the Inn was renamed the Sugar Hill Inn.
In 2020, Chris stepped away from a 20 year career as an independent school administrator and the family headed to the Rockies to enjoy some R&R. It was a great place to think about the next chapter. Chris decided it was time for a new challenge and after so many years working in one industry, the opportunity to run his own business and the freedom that comes with that was overwhelmingly persuasive. After an initial search, Chris and Kierstin decided to look in New England so that the kids could grow up surrounded by family. The Sugar Hill Inn instantly stood out as a perfect place on the map – wonderful community, close to family, and absolutely beautiful during every season. They closed on the Inn on December 13, 2021 and are thrilled to call Sugar Hill home!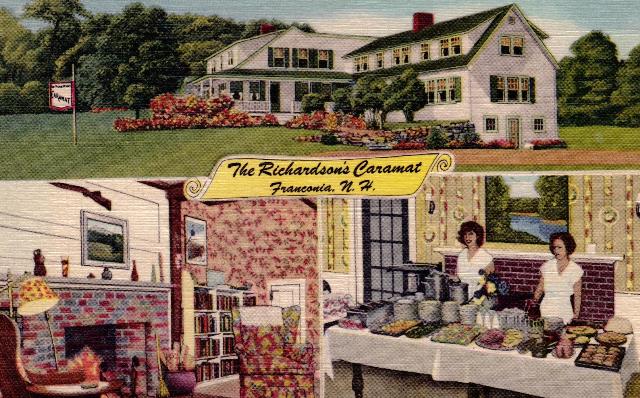 In the 1920s the Richardson family converted their farm house into a county inn and name it Caramat