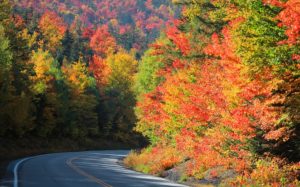 In the blink of an eye, it seems that we've fully transitioned from warm summer breezes to crisp autumn air. Fall is just around the corner, which means now is a great time to plan ahead to see New Hampshire's vibrant fall foliage. Though the entire New England region is renowned for its vibrant displays of reds, oranges, greens, and yellows, there is perhaps nowhere more picturesque than the White Mountains in the fall. Whether you choose to take a scenic drive or hike to the peaks above for a birds-eye view of the colorful displays, you can't beat a fall getaway to the White Mountains. Book your stay at our luxury Bed and Breakfast this fall, and enjoy New Hampshire's most beautiful season with us.
Best Places to See Fall Foliage
It's pretty hard to go wrong during the fall in New Hampshire. Everywhere you turn, you'll be rewarded with dazzling displays of fiery reds and oranges, mixed with bright pops of yellows and greens. Best of all, you can enjoy these colorful displays without straying too far from the comfort and luxury of our Inn. Peak fall foliage season usually begins in September, and continues through mid-October.
The Kancamagus Highway is perhaps one of the most popular fall attractions in New Hampshire. This scenic route, known to locals as "the Kank," passes through the heart of the White Mountains between the towns of Lincoln and Conway, and offers some truly spectacular scenery. Though this stretch of road is only 34 miles long, plan to give yourself at least an hour for the drive; more if the roads are particularly crowded or on weekends. Points of interest along the way include: Sabbaday Falls, Lower Falls and Rocky Gorge. There are also plenty of hiking trails along this stretch of road. A trip to the peak of any of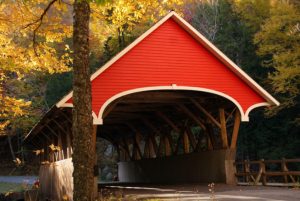 these trails will offer unparalleled views of the White Mountains. The Pinkham Notch Loop is also a worthwhile drive if you have the time, and really want to experience the full range of fall in the White Mountains.
If you're looking to explore the White Mountains on foot, there is no place more beautiful than Franconia Notch State Park. The park extends 8 miles from the Flume Gorge in the south, to Lake Echo in the north. Here, you should meander down the Flume Gorge Trail, where you'll travel through a narrow gorge, no more than 12-20 feet wide, with granite cliffs rising 70 to 90 feet above you. Visitors to the park will also enjoy wonderful views of Mount Liberty and Mount Flume, a picturesque covered bridge that was built in 1886, table rock, avalanche falls, Sentinel Pine Bridge and Pool, and so much more. Visitors will also want to take the Cannon Mountain Aerial Tram during the fall months. Not only will you enjoy the ride aboard the first passenger aerial tramway in the United States, but you'll be rewarded with incredible views of fall foliage from the 4,080 foot summit of Cannon Mountain.
Everyone wants to enjoy the splendid beauty of fall foliage in New England. There's no better place to do this than the White Mountains. Enjoy the awe-inspiring beauty of Mother Nature by day, and relax in the luxurious accommodations of our New Hampshire Inn by night. Book your room at our luxury Bed and Breakfast today.