Area Events and Activities
Fun For All…In Every Season
There is a world of things to do and see within a short drive from the Sugar Hill Inn.
Fields of Lupine, Sugar Hill, NH – This time honored June festival is famous for picturesque fields of purple lupine flowers against a majestic mountain backdrop. The festival features, open-air markets, wagon rides, concerts and events at area locations, including the Sugar Hill Inn. Inn guests will receive a complementary Lupine book featuring the best sightings, inn tours, parties, special event and discounts.
Mt. Washington Road Race A race up the 7.6 mile, 5000 ft vertical course
that is Mount Washington.
Fourth of July Celebrations:
Fall Foliage, September – October
The Arts
Canoeing
Streeter Pond, Sugar Hill. Tranquil for rowing or canoeing.
Ammonoosuc River, Littleton. 21 miles of class I-II rapids. Numerous "ins" and "outs" along course.
Connecticut River, Woodsville. 50 miles of class II and flat canoeing.
Gale River and Ham Branch. 10 miles of class I, II rapids running from Easton to Franconia.
Cycling
Franconia Notch State Park bike path, 9 relatively easy and scenic miles through the Notch.  Explore numerous secondary roads with quaint stops and magnificent scenery including the local towns of Sugar Hill, Franconia, Littleton and Bethlehem.
"Bike The North Country"  There is a growing number of biking trails for experienced riders in the area and an ever increasing outdoor biking community.  Bike rentals are available at the Cannon Mountain Tram, the White Mountain Bike Shop, Franconia Base Camp, and Littleton Bike and Fitness.
Fishing
Profile Lake, Franconia. Brook trout. Sitting directly below where the Old Man of the Mountain once stood, it was often called the Old Man's Washbowl. The lake is well-known for its brook trout and is open to fly-fishing only.
Streeter Pond, Sugar Hill. Brook and rainbow trout.
Perch Pond, Campton. Rainbow trout.
Ammonoosuc River, Littleton. Brook and rainbow trout.
The Pemigewassett River, Lincoln. Brook trout. The river runs through the White Mountain National Forest surrounded with spectacular scenery on both sides
The Gale River, Franconia. Brook trout.
Connecticut River Brook, rainbow and brown trout.
Ham Branch, Franconia. Brook trout.
Echo Lake, Conway. Brook trout.
Lonesome Lake, Lincoln. Brook trout.
Golf
Horseback Riding
Franconia Notch Stables, Franconia. Guided and private rides available.
Hiking
Whether you are a novice or an expert, there is a hiking trail for you. Trail maps are available at the inn and we would be delighted to help you plan your route.
Mount Washington, North Conway. 3600-4288 feet of vertical climbing spread over 8-10 miles (depending on your trail) takes you to the summit at 6288 feet, the highest peak in the northeast. Originally called Agiocochook by native Americans, the mountain boasts some of the planet's most severe weather, and retains the world record for wind speed, 231 MPH, so plan ahead. For those of you who'd like to see the spectacular view from the summit, but don't have the time, energy or ability to hike to the summit, consider driving to the top via the Mt. Washington Auto Road

. Yet another way to reach the peak is the famous 

Cog Railway

.

Bald Mountain and Artists' Bluff, 

Franconia. A two mile trail with a vertical rise of 400 feet. Moderate difficulty. Accesses Echo Lake beach. Vistas and a close up view of Franconia Notch.

Mount Lafayette

Franconia. 3550 feet vertical feet over 5-8 miles takes you to the 5249 foot summit with its own Alpine Meadow. The Appalachian Trail crosses the summit. Like all the 5000 footers, it is notorious for making its own weather.

Bridal Veil Falls

, Franconia. 3.5 mile hike, 1000 foot elevation change. A nice walk for a hot afternoon.

Mount Liberty, Mount Flume, Franconia. 8 mile hike 3000 feet elevation change. The Liberty Spring route tracks the Appalachian Trail to marvelous tent sites just below Franconia Ridge, then concludes with views from the fortress walls of Mount Liberty's awesome peak.
The Basin and Cascade Brook, Franconia. Three miles, 500 feet of vertical. This hike in Franconia Notch follows Cascade Brook for nearly 1.0 mile, visiting two waterfalls and numerous cascades along the way. Excellent views.
Mount Pemigewasset

, Franconia. 3.6 miles round trip with a 1,170 foot elevation change finishing at the top of Indian Head Profile on the summit of Mount Pemigewassett. Seasonal home to large number of ravens it has notable views up and down the Notch.

Arethusa Falls Trail

, Livermore. The state's highest falls at 200 feet. Three miles, 1,000 feet of elevation change. Easy to moderate.

Appalachian Trail

. It's only a few miles from the inn and runs all the way to Georgia. In NH alone it runs 161 miles from the Connecticut River in Hanover to the Maine state line. Thousands of vertical feet over some of the best terrain along the entire Eastern Seaboard. Takes a whole season to hike from one end to the other.

Falling Waters Trail

, Franconia. 6.4 miles, 2800 feet to summit of Little Haystack Mountain. Difficult. Trailhead in Franconia Notch State Park.

Georgiana Falls Path and Lincoln area hikes

. This path, leading you to the Georgian and Cascade Falls, on Harvard Brook are accessed by an unmarked trail leaving from a parking area off Hanson Farm Road in Lincoln. An easy 1.3 mile hike leads to the Lower in a beautiful wooded setting. The Upper, or Harvard Falls are a steep 0.5 mile farther.

Greenleaf Trail

, Franconia. 7.6 miles, 2100 foot rise to the top of Mount Lafayette. Moderate difficulty. Starting in Franconia The Greenleaf Trail leads from the tramway parking lot at the Cannon Mountain Ski Area to the summit of Mount Lafayette.

Lonesome Lake Trail, 

Lincoln. 3.3 miles rising a 1000 feet to finish at Lonesome Lake. Moderate difficulty.

Skookumchuck Trail

, Franconia. 10 miles beginning in Franconia with a 3360 rise to the summit of Mount Lafayette. Moderate difficulty.
Picnicking
There are numerous places to picnic in the area, some designated, some not. Designated areas include Beaver Brook Wayside Rest Area in Twin Mountain; Basin Pond Fishing and Picnic area in North Chatham; Wildwood Picnic Area in Easton and Zealand Picnic area in Twin Mountain.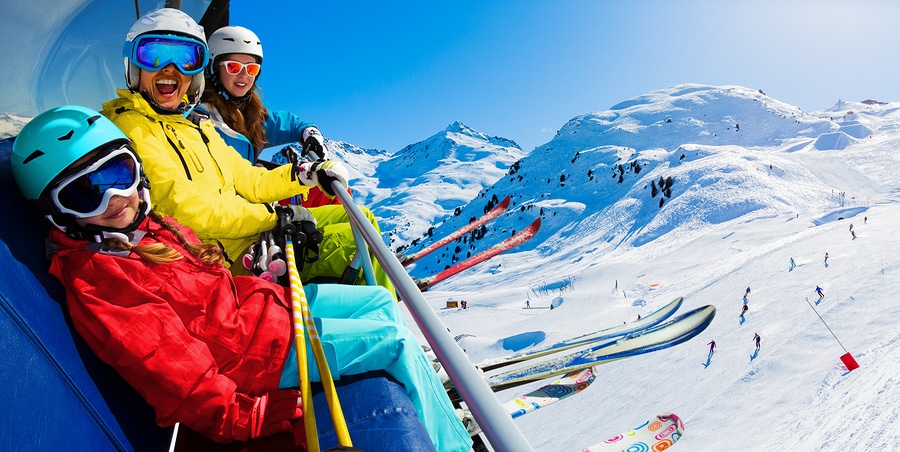 Natural Wonders and Ways to Get There
The Cannon Mountain Aerial Tramway, Franconia. 80 passenger aerial tram to the summit. Spectacular scenery year round. A great place for a picnic.
The Mount Washington Cog Railway, North Conway. Possibly the best way to get to the top of Mount Washington. This is a three-hour round trip on the world's first mountain-climbing cog railway —constructed in 1869. The three-mile route to the 6288-foot summit is over the second steepest railway track in the world with a 13.5% average grade.
The Basin, Franconia. At the base of the beautiful waterfall at this site is a granite pothole 20 feet in diameter. It is believed to have been eroded 15,000 years ago while the North American ice sheet was melting
The Flume, Franconia. 800 foot long gorge with granite walls 12 to 20 feet apart towering 70 to 90 feet over your head. Has films and interpretive foot trails.
Mount Washington Auto Road, North Conway. Built in 1861 this 8 mile road conquers the highest mountain in the northeast at 6288 feet. Some of the world's most extreme weather happens here regularly including the world's highest ever sustained wind of 231 mph. Travel through four climate zones in your own car or take a Guided Stage tour.
Swimming
Waterfalls
Fruits and Vegetables
Pick your own pumpkins and apples or enjoy one of our seasonal farmers markets. We'll tell you the best places to go whenever you visit us.
Winter Activities
Cross Country Skiing
Downhill Skiing
Ice Skating
Waterville Valley Ice Area is open starting in late October for ice skating, hockey and lessons.
Snowmobiling
Snowshoeing
What's great about snowshoeing is that you can do it anywhere. Ask Steve to loan you the snowshoes.
Horse Drawn Carriage Rides
The Mount Washington Hotel offers sleigh rides. We'll be glad to make you a reservation.
Extreme Skiing
Tuckerman's Ravine. Ski the wall. Vertical drop of 3400 feet to the highway, 1500 feet in the ravine. No lift. The ultimate in advanced adventure skiing. Snow occasionally lasts year round and always into June or July.
Dog Sledding
Dog Sled NH 3-hour, 6-hour and overnight excursions into the White Mountains on a dog sled pulled by Siberian and Alaskan Huskies.
All Weather Activities
Antiquing
New England is noted for its numerous country antique shops carrying everything from yesterday's junk to priceless heirlooms. There's always something for every price, budget and interest.
Attractions
Clark's Trading Post, North Woodstock. Americana theme park with trained bears, antique steam train rides and bumper boats. A New Hampshire tourist fixture for generations. About 12 miles away.
Flume Gorge. 800 foot long gorge with granite walls 12 to 20 feet apart towering 70 to 90 feet over your head. Has films and interpretive foot trails. Two covered bridges. Less than 10 miles away.
Loon Mountain Park, Lincoln. Outdoor activity complex on Loon Mountain. Includes Mountain biking, in-line skating, laser skeet shooting, horseback riding, cable car ride and observation tower.
Santa's Village, Jefferson. A family park, live performances, rides, animals.
Storyland, Glen. A perennial family favorite with theme rides and shows. Next to Heritage New Hampshire.
Heritage New Hampshire, Bartlett. Spectacular journey through three centuries of New Hampshire's heritage.
Whale's Tale, Lincoln. Five waterslides, flume slides, 360 foot 'tube ride. Lots of fun on a hot day. In Lincoln, 20 minutes away.
Drives
The White Mountain Trail. New England's Most Scenic 100 Miles. We will give to a map and brochure detailing the route and sites along the way.
The Kancamagus Highway. 34.5 miles. New England's only National Forest scenic byway. A great way to get to Conway (Outlet Shopping) if you want to take your time. Spectacular year round, but best in the foliage season.
Route 117. Designated a historic scenic byway at our front door.
Covered Bridge Tours There are 7 covered bridges in the local area. We'll be glad to give you an itinerary and help you plan your day.
Fitness Center
Four Seasons Tennis & Sports Center, Lisbon. Tennis, squash, spinning, and swimming available.
Also has a gym.
Hunting
Museums and Historical Sights
Shopping
Wildlife
It is not unusual to spot moose or bear from the comfort of our dining room while enjoying breakfast.