Chapter 4 The Art of Innkeeping
The cool thing about staying at a country inn is that every establishment has its own character and personality. That personality comes from its history, location and most importantly the owner. When I purchased the inn, in 2006, many so called improvements were not true to the inn's historic farm house roots. Vinyl floors, industrial doors, Indoor/outdoor carpet, QVC country hour knickknacks all offended my eyes. For those nostalgic for grandma's house, we had the right look, but for everyone else, it was time for change. We needed a look that would appeal to the next generation of inn goers.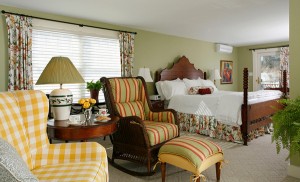 Although so many innkeepers believe that they are wonders, when it comes to decorating, I wanted professional help. Shabby chic was not going to be my style. Top hotels, restaurants and department stores spend millions on interior design. It's done not to feed their egos but because good design is important to their success.
While guest bring their own level of happiness, joy and expectations to the inn, it is my job as "head set designer" to set the stage. Some guests come for romance, others for relaxation and for still others we are base camp for a White Mountain adventure.
Being new to the area and assuming that both my lawyer and banker had expensive homes I asked them for a referral. When they both recommend Carol Hartnett, it was time to make an appointment. Carol had an attractive store in Littleton, over flowing with quality furniture, gifts and fabric samples. Deep down I knew what I was looking for. The question was, could I verbalize my thoughts enough and could Carol be clairvoyant enough to translate my vision into reality. I came prepared with pages from Architectural Digest, Pottery Barn Catalogs and books on farmhouses and mountain escapes. I wanted a look that would be true to the historic old farm house. To me this meant the use of natural wood, stone, and fabric. I didn't want anything overly frilly. Made in New England was my preference when available. We had to create an environment that was warm, welcoming, relaxing, beautiful, authentic, romantic, practical, timeless and interesting (New Hampshire style Feng Shui).
With 14 guest rooms, plus common areas and gardens, priorities needed to be set. It was decided that first impressions were very important and therefore the main floor would be our number one priority.
Our second priority was redoing the Peckett and Richardson Suites. These were our two best rooms at the time but they weren't selling well. It was obvious to me that top of the line luxury rooms, at a romantic getaway, needed king beds. Adding the new beds lead to a complete makeover. These rooms quickly became best sellers, telling us, that there was definitely demand for high-end rooms in the White Mountains and a year latter resulted in the Dream Cottage project.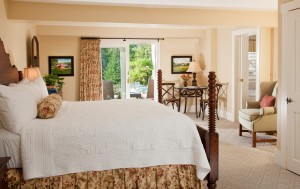 Carol's first question was about the budget. While I understand the importance of budgets they generally result in either over speeding if too high and under achieving if too low. I wanted to spend enough to achieve my vision and no more.
A project of this size requires a lot of organization. Carol took a full inventory of everything that we owned, room measurements and took pictures of every room and assembled all this data in a large note book. We spent hours discussing the rooms, picking furniture, fabrics, wallpapers and paints. There is nothing more tiring them selecting fabrics. At times, I found myself asking, "What room are we talking about" when asked if I prefer the strip over the paisley.
Decorating an inn is different than doing your personal home. It was all about the guests, not me. Our average guest spends only 2 days with us, so it is important that they feel immediately at home. When working from room diagrams, paint samples, fabric books and pictures it is sometimes hard to imagine the finished look. As the one paying the bill, of course I have the final say but when hiring a professional sometimes you need to take a leap of faith and trust. The hardest part of being a business owner, is knowing when to follow your own instincts and when to listen to others that may know more.
I remember the day when Theresa, our assistant innkeeper follow Carol around the inn with a big bag. Anything too cute (straw hats, fake flowers, signs with cute sayings, etc.) was removed from the inn never to be seen again.
For the first year the inn was frequently torn apart on week days with carpenters, painters and wallpaper hangers and then quickly cleaned up for arriving weekend guests. The first year also involved a new roof, bar, library, landscaping, swimming pool, air-conditioning, paint, wall paper and many plumbing and electrical repairs. I will be writing about these things in latter chapters.
Based upon feedback from guests, I think that we were very successful in setting the stage, in that first year, but so much more was still needed. I wish to thank Carol, the entire Sugar Hill Inn staff, the carpenters, contractors, painters and landscapers for their dedication and excellence in turning my vision into reality.
Want to know more? Read our book "Sugar Hill Inn Art of Innkeeping." Available from Amazon and Barnes and Noble.