Chapter 3 The Art of Innkeeping
There I was in Chef School with this vision of buying a country inn. All students at the French Culinary Institute were required to meet with the career placement office even if you did not want or need a job. Most of the students at the school were younger then I and they had time to work their way up as slaves, at a big name restaurant, but not me. While I loved chef school, it was clear to me that I didn't want to be just a chef. To me, it was a life enriching experience and satisfied an intellectual curiosity but certainly not the end of my academic interests. I would also someday like to get a PHD in American History and study interior design and architecture. I should have been born in the age of Jefferson and Franklin when being a renaissance man was more in fashion. I also didn't need another framed diploma for the wall, although I proudly display it.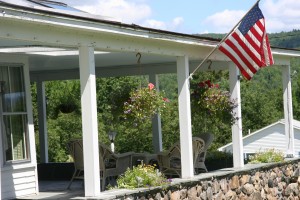 Eric, the placement director to my surprised understood my vision and gave me the name of a Vermont Business Broker. After exchanging a few emails and phone calls I had an appointment to meet Dick Palmer.
While Dick handled just Vermont, I was totally open as to location. The Pacific North West or Cape Cod came to mind. I pictured being on a high cliff with the crash waves below. It didn't take much research to determine that ocean front property was extremely over priced and that it would be impossible to charge enough to cover the mortgage. In fact, at the time, many Cape Cod inns were being sold back as private homes.
I met Dick at the Purple Panther Inn in Manchester, Vermont. Manchester is the tale of two villages. My first impression was of a wonderful quant village. The stately Equinox Resort sits in the center of the Village. The village with its green lawns, white picket fences and homes captures the essence of small town New England. Among the harmonious homes and businesses all paint that New England white, one place stood out. That was where I was staying. Yes, the Purple Panther Inn really was paint a bold shade of Purple. So, what about the tale of two villages. Just down the road a mile or two were several strip malls full of outlet stores. This wasn't the Vermont I was in search of. It reminded me of Fort Lauderdale Fl.
The Purple Panther didn't have the typical front desk. Instead you were invited to sit down in a cozy pallor room in front of the owner's desk while he handled the usual check in details. I had a small but very well appointed room with rich colors and fabrics and a gas fireplace. Obviously professionally decorated. This wasn't the look I was after for my future inn but certainly a nice place to stay. The Purple Panther was not for sale. The first inn Dick was going to show me was not currently in operations and that was why I was staying at the Purple Panther. Dick had recently sold the Panther to its current owner. Dick and his wife had invited the new owner (I wish I could remember his name) and myself out to dinner. I was in listening mode absorbing all this shop talk about innkeeping. A week later, I heard the terrible news that The Purple Panther had burnt down to the ground. The fire was caused by excess lint build up in dryer. My first important lesson on the road to innkeeping
The next morning, Dick took me to a beautiful spot in the middle of nowhere. Saying that the inn was not in operations was an understatement. Abandoned would have been more accurate. It was terribly run down although nothing that a million dollars and a full year couldn't fix. At this point Dick wasn't trying to sell me anything. He was just trying to fish out what I might be interested in. In the process of doing that we stop at several inns that Dick had sold recently so that I could meet the owners, have a tour, and gain a better understanding of my likes and dislikes.
Our next stop was far from everything in the North West Kingdom of Vermont. This inn made a great first impression. It was made up of two classic white New England homes with white picket fences across a narrow lane from each other. This was what a New England Inn was supposed to look like. I was given a tour of all the available rooms and spent a good portion of the afternoon in the kitchen talking with Jim, the owner. Before dinner I took a walk up the road. It was so quite. All you could hear were the sound of nature. It was so peaceful… I loved it. I had a nice dinner with Dick at the inn. After dinner I relaxed in my room with a good book since there was no TV. The next morning I had a nice breakfast but nothing that really stood out. The same was true of breakfast at the Purple Panther. I was thinking that I could certainly do better. There were some valuation issues resulting from property that they had recently sold off, so I did not seriously pursue this opportunity. I believe that the inn was never sold and last year it closed in bankruptcy. With the right owner this could be a fantastic inn.
The best way to see an inn is to stay the night and experience it from a guest point of view. It is usually confidential that an inn is for sale and as a buyer it is important to act normal. It is also customary to book and pay for your own room.
My next trip up to Vermont was to meet Wendy Beach. Wendy was young, blonde, and attractive. Unfortunately she was also married. The first inn she showed me was down the street from the Ben and Jerry's Ice Cream factory but unfortunately across the street from a shopping center. I did not come up here to be across the street from a shopping center. I wanted views, land and a property that captures the essences of New England. Next, we drove all the ways across the state and into Lyme, NH. Lyme could have been a movie set. There was the beautiful green commons lined with quaint New England buildings and homes with Picket fences all painted New Hampshire white. At the far end of the square was the stately, three story, imposing and slightly haunted looking Alden Inn. This property had the potential to be a great boutique hotel. Right now it was mostly a restaurant. The rooms on the upper floors were quite old and ordinary. The owner, every spring carried window air conditioners up 2 flights of stairs to place in the inn's windows. The location and the historic building was certainly an attraction but in my heart, I knew that this was a bigger under taking then I could handle. My intuition was right. One day after buying the Sugar Hill Inn I was driving to the Dartmouth Book store in Hanover via the back roads when I rediscovered the Arden Inn. A sign on the front door just said closed. I was not surprised but did feel sad about it. On a recent drive pass the inn I see that it is undergoing a massive renovation. I wish them well.
Over the next few months I had several trips north to check out inns and B&Bs and met with many different business brokers. I saw the Red Shudder Inn by Mount Snow. It was ok, and probably could have been run as a successful business but lacked the potential to ever be anything more than just another average ski town inn.
There was also the Highland Inn in the Lakes District of New Hampshire. It was located on a beautiful county road with a view onto a peaceful small lake. The inn was owned by a recently divorced guy. His wife left and it was never his plan to be running the inn by himself. He had plans to return to the real world and resume his prior career as an engineer. The innkeeping experiment for them, was a failure. I loved the way the house sat on the land and the old barn out back. Regrettably, most of the home's old architectural details were missing. The Home Depot doors with the fake wood grain and factory applied white finish rubbed me the wrong way. Too much of the house's soul had been destroyed.
As a young adult I remember staying at the Golden stage in Proctorville Vermont while doing a Bike Vermont Tour. I had great memories of that trip. When I heard that the Golden Stage was for sale my imagination went wild. A lot can change in 20 years. A junk yard had open up across the street and the inn was not as nice as I remember.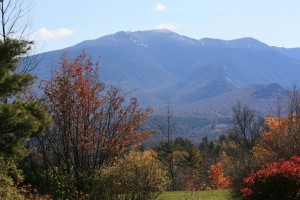 On a busy nondescript street in Ludlow Vermont, Dick and I stopped to see our next inn. This was a town to refuel and stock up on Duncan Doughnuts and keep going. However, on the inside this inn was absolutely beautiful. The hand craved wood work was amazing. If this property was only in Woodstock Vermont it would be worth a fortune. The owners lived in a boring 1970s style home built in the back yard.
The next two inns I saw were both just outside Woodstock Vermont. First one was a small B&B with only six rooms. It was owned by two guys. I had learned at B&B school that for a viable business you need at least 8 rooms.
Just up the road was the Jackson House. This was a beautiful inn in every way. I stayed the night and had dinner at the inn with Dick and the owners. From the outside the inn was impressive. Each guest room was decorated with luxurious fabric and bold wall coverings. Although it was a bit overdone for my taste it was very professional. The owner's wife was an interior decorator. The inn also had beautiful works of art everywhere. From what I could tell the innkeepers were very experienced and the inn was well run. At over $2MM I felt that it was much too big of an undertaking for me. I wasn't experienced enough to run this inn. Even more important, this was a completely turnkey operation. There was little room for me to place my stamp on the inn. You were paying top dollar for an inn at its peak of glory. To me the down side risk was much larger than any upside potential. A recent read of trip advisor reviews after the inn was sold confirmed my thinking.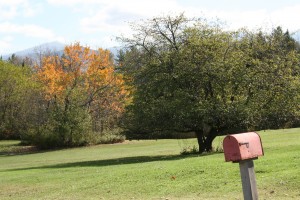 I considered placing an offer on the Westerly B&B near Sugarbush but some had acted first. The inn was on a beautiful piece of land. You could feel the tranquility. They even had their own chickens for eggs. This inn after being sold joined Select Registry and has a very good reputation.
So far I had looked at over 10 inns/B&Bs that were for sale in Vermont and Southern New Hampshire. While that might not seem like a lot, looking for an inn is quite different then buying a house. Within any region there are only a handful of interesting properties available at any one time. By now I had an excellent idea of what I was looking for.
A beautiful location and lots of land
A full service inn where the inn was more important than the restaurant
A turnkey investment but with ample room for growth
A inn suitable for a man; Not too frilly
A historic building
Just before Christmas in 2005 Wendy called and said that her partner had just listed an inn in the White Mountains of NH. I had never been to the White Mountains before and had always thought of New Hampshire as "Vermont Lite". Well, I was wrong. The White Mountains are more dramatic than anything Vermont has to offer. The Sugar Hill Inn was just what I was looking for. While the inn had its share of issues, they were all fixable and the upside potential was sky high.
For anyone looking for an inn or B&B, I strongly recommend both Dick Palmer and Wendy Beach.
Want to know more? Read our book "Sugar Hill Inn Art of Innkeeping." Available from Amazon and Barnes and Noble.