There are so many great things to do in the White Mountains, especially during these cold and snowy winter months.  While downhill skiing, cross country skiing, and snowshoeing are among the most popular, there are also some pretty great White Mountains snowmobiling trails to explore, too.
There's nothing better after a cold day in the snow than putting your feet up, enjoying a good meal and a glass of wine, and relaxing in style.  You'll find all of that and more at our luxury White Mountains Bed and Breakfast.  Our New Hampshire Bed and Breakfast is located just a few minutes from Franconia Notch State Park and Cannon Mountain.
Our unbeatable location is enhanced by our award-winning restaurant and the finest hospitality of all of New Hampshire.  Here, you truly will be able to enjoy the finer elements of getting away to the stunning White Mountains. So, while your days are spent gliding along the many miles of White Mountains snowmobiling trails, your nights will be best enjoyed at the unbeatable Sugar Hill Inn.  Book your stay at the most romantic lodging in the White Mountains today!
The Best White Mountains Snowmobiling
Are you beginning to wonder just what kind of snowmobiling trails the White Mountains have in store for you?  The answer to that is plenty! In total, there are more than 7,000 miles of White Mountains snowmobiling trails worth exploring, many of which are found in the White Mountain National Forest.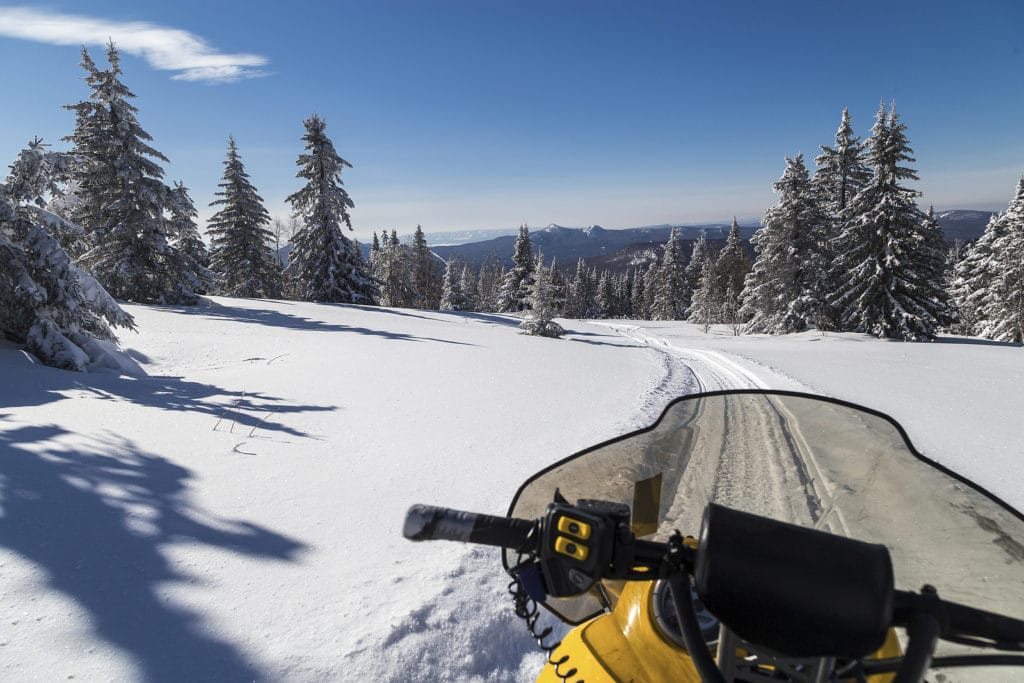 Some of the trails are within just minutes from our Inn, while others will require you to travel just a little bit further. One thing is for sure, though, all of these White Mountains snowmobiling trails will lead you through some of the most stunning and start winter landscapes imaginable. We'd love to talk to you more about your White Mountains snowmobiling adventures, but to get you started, here are a few of the most popular trails in the area:
The closest and most accessible trail is the Franconia Notch State Park Recreational Trail. This 20-mile trail is paved for hiking during the spring, summer, and fall. Come winter, though, it's perfect for some White Mountains snowmobiling!  While you're there, take a break and make sure to explore some of the park's other top attractions, like the Flume Gorge, the Old Man of the Mountain, Cannon Mountain Aerial Tramway, and Echo Lake.
The Ammonoosuc Rail Trail

offers 19 miles of snowmobiling fun between the towns of Littleton to Woodsville. This riverside trail is beautiful any time of year, but particularly so during the winter. A particularly beautiful highlight of this trail are the covered bridges and waterfall you'll encounter near Bath.

A little further away you'll find the

Presidential Range Rail Trail

. This trail offers 18 miles of snowmobiling along the northern edge of the White Mountain National Forest. Not only will you enjoy stunning views of the Presidential Range itself, but it's a great trail to view wildlife, including moose, black bears, wild turkeys, and other birds, as well as beavers and otters.

In nearby Gorham, you can extend your day on White Mountains Snowmobiling trails by heading to the

Lead Mine Trails

in Gorham. This area offers astonishing close-up views of the White Mountains and the valley below.
If you don't want the hassle of planning a trip on your own, there are a number of White Mountains snowmobiling tours you can take. Northern Extremes Snowmobiling offers their Mt. Washington Half-Day Tour. This adventure takes you up Jefferson Notch Road, which is the highest maintained road in the State of New Hampshire. It offers a great opportunity to see some Moose! Alternatively, Sled Adventures offers a number of tours, including one through the beautiful Franconia Notch.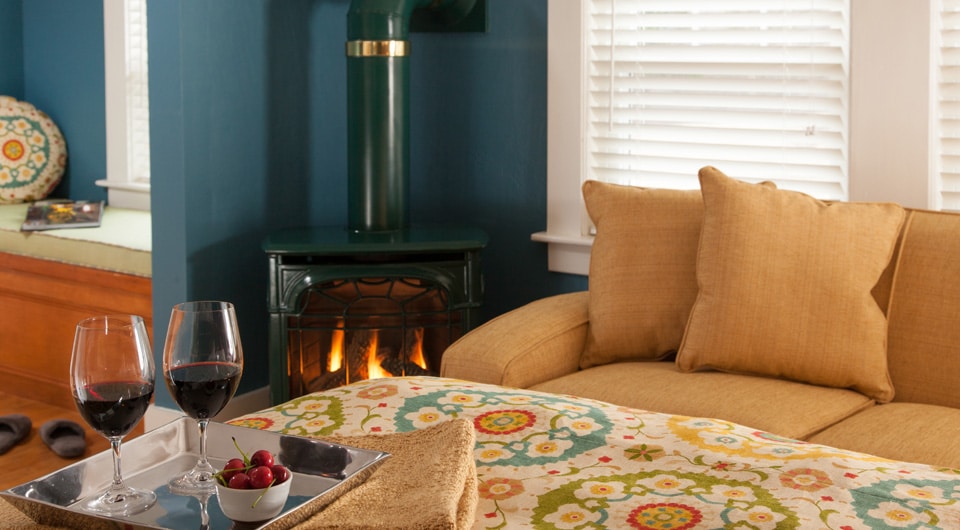 The Most Romantic Lodging in the White Mountains
The draw of spending your winter days in the White Mountains might be what gets you here, but it will be the romantic atmosphere and exceptional service that keep you here and bring you back for one getaway after another.  There's a special quality to life here in the White Mountains, away from the busy din of city noise and over-crowded hotels. It's this that makes the White Mountains one of the top romantic getaways in New Hampshire.
Moreover, there's a reason our New Hampshire Bed and Breakfast has been called the #1 place at which to celebrate a special occasion. Be in a birthday, anniversary, surprise engagement, or some other special cause for celebration, our Bed and Breakfast is the most romantic place to enjoy your special moments.
Fall asleep in our comfortable and luxurious suites, wake up to stunning views and a delicious breakfast made fresh for you each morning, enjoy relaxing in our common spaces, have some fun exploring the area, and then unwind at our award-winning restaurant, where the table will be yours to enjoy for the evening.  If that sounds like the perfect getaway to you, then it's past time to start planning.  Go book your room at our New Hampshire Bed and Breakfast!