Are you looking for somewhere great to get away this winter, and perhaps to enjoy a little bit of skiing or other winter recreation?  Our luxury Bed and Breakfast has just what you're looking for!  Here, you'll find 3 great ski resorts in the White Mountains of NH, which are perfect for a winter adventure. Couple it with a romantic retreat to the luxurious guest rooms and exquisite fine dining restaurant offered at the Sugar Hill Inn, and you have a dream getaway to look forward to this winter.
As we firmly head into the winter season here in the White Mountains, it's time to plan your ski adventures, if you haven't done so already.  In fact, planning in advance is going to be an essential part of your getaways this winter, as ski resorts in the area are limiting capacity and requiring advanced ticket purchases to limit the spread of COVID-19.
Combine your visit to these ski resorts in the White Mountains NH with our ski and stay package at our luxury Bed and Breakfast, and you'll find that it's easier than ever to enjoy some of the best skiing in the northeast.  Our romantic Bed and Breakfast, which is situated just minutes from these 3 top ski resorts in the White Mountains NH, is a wonderful place to relax, unwind, and savor a delicious meal after a long day on the slopes.  There's nothing else quite like it, so book your room at the Sugar Hill Inn Bed and Breakfast today!
The 3 Best Ski Resorts in the White Mountains NH
New Hampshire really is a dream destination for skiers. It's home to more than just 3 great ski resorts – it's also home to plenty of areas for cross country skiing, snowshoeing, snowmobiling, and more. The most popular ski resorts in the area include big names such as Attitash Mountain Resort, Cannon Mountain, Loon Mountain, Wildcat Mountain, Bretton Woods, King Pine, Waterville Valley, and more.  We prefer to send our guests to 3 of the best ski resorts in the White Mountains NH, which are Cannon Mountain, Bretton Woods, and Loon Mountain.
In fact, when you book one of our Ski Packages, you'll not only enjoy the excellent accommodations at our Bed and Breakfast but discounted tickets at these ski resorts as well. If you've never skied at one of these amazing ski resorts in the White Mountains NH, here's a brief overview of each so you can plan your adventures ahead.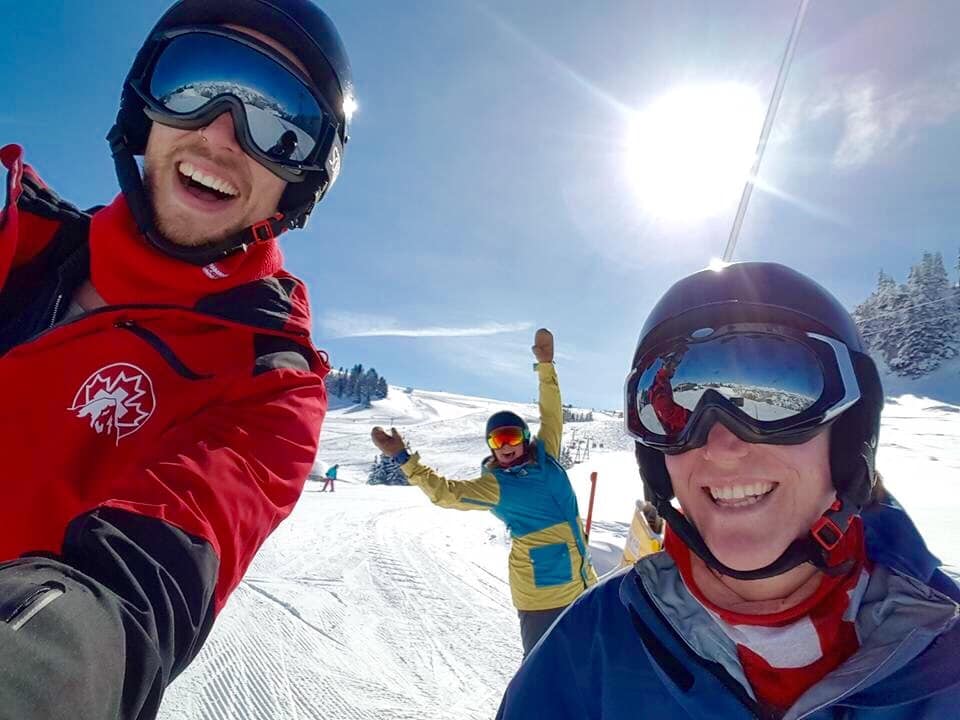 Cannon Mountain
At Cannon Mountain, which is located in the beautiful Franconia Notch State Park, is home to 11 total lifts, including their famous 70-passenger Aerial Tramway, which offers a stunning journey to the 4,080-foot peak at Cannon Mountain.  This is the tallest ski summit in the state and offers skiers and snowboarders an incredible 2,180-foot vertical drop, which also happens to be the longest vertical drop in New Hampshire.
It probably doesn't come as a surprise that Cannon Mountain is home to long ski runs, too, such as an incredible 2.3-mile run that features a variety of terrain.  Many of the runs here are suitable for both beginners and intermediate skiers, as well as experts. Tickets will need to be purchased online and in advance this year, in order to control crowd capacity on the mountain throughout the season. You can find all of Cannon Mountain's COVID precautions here.
If you don't feel like hauling all of your ski gear up here, don't worry.  You can rent skis and snowboards at Cannon Mountain. Rentals are located in the Peabody Lodge. The best part of Cannon Mountain is that the journey from your guest room at our Bed and Breakfast to the mountain is only 10 minutes!
Bretton Woods
Bretton Woods has been rated one of the top ski destinations on the East Coast for the past 5 years, which isn't surprising if you've skied there. As the largest ski area in the state, you can expect a variety of ski runs, suitable for all levels. They also have two amazing freestyle terrain parks to enjoy. Here, you'll find 63 trails and 35 glades, accessed by ten lifts, including the new Bretton Woods Skyway 8-Passenger Gondola and four high-speed quads.
Usually, snow is plentiful at these amazing ski resorts in the White Mountains NH, but if for some reason it's needed, Bretton Woods has snow-making capability on 92% of its runs.  That means you can be assured of not just a long, but good ski season!  Bretton Woods also offers night skiing, which is a magical experience you must enjoy at least once in your lifetime.
As with Cannon Mountain, ski tickets for non-season pass holders must be purchased in advance, and there are COVID restrictions in place.  From our Bed and Breakfast, you can expect to reach the slopes in approximately 30 minutes.
Loon Mountain
Loon Mountain is highly rated amongst other ski resorts in the northeast. While it has a great number of trails, it is best known for having one of the best terrain parks in the region (there are 6 terrain parks here in total).  It's also home to the only superpipe in all of New Hampshire, making it the perfect place for the most adventurous snowboarders.
In total, Loon Mountain is home to 61 trails and 8 glades to explore, with their longest run coming in at 2.5 miles – plenty of time to ski and enjoy the scenery! Loon Mountain also has great snow-making capabilities, with coverage of up to 99% of their runs when needed.
Loon Mountain is the farthest away, at a mere 45-minute drive from Sugar Hill Inn. As with the others, advanced ticket sales are required to ensure you get to ski, and their COVID protocols can be found here.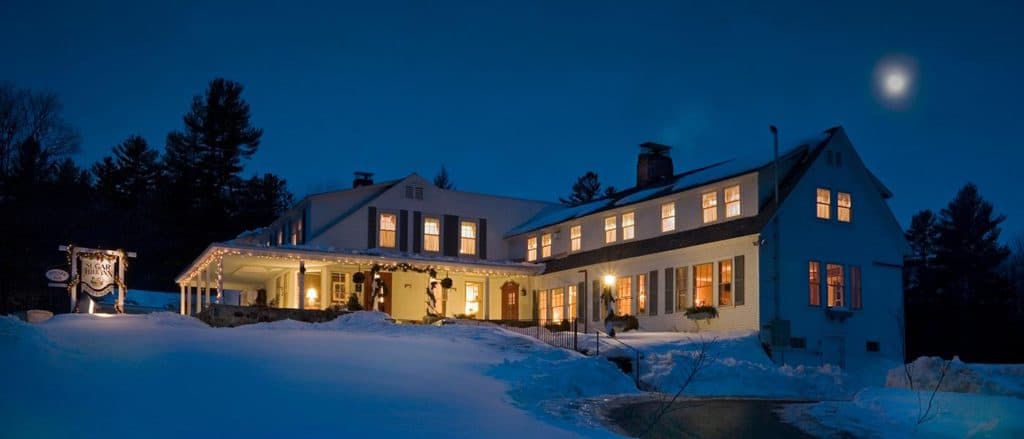 The Best Ski Getaway in New Hampshire
After a long day in the mountains, you'll be ready to put your feed up with a warm beverage in hand. One of the best parts about staying with us at our New Hampshire Bed and Breakfast is coming in to warm up after all of the fun in the sun, and enjoying tea, hot cider, or your favorite beverage from our tavern, followed by dinner in our world-class restaurant.  We offer European style dining, meaning the table is yours to enjoy for the night and there's no need to feel rushed.  It's the perfect place to sit back, relax, and let us take care of you!
Our exceptional hospitality is at the forefront of everything we do here at our New Hampshire Bed and Breakfast. This winter, our goal is simple – to help you make the most of your time here, and to get on the slopes faster so you can enjoy the hours carving your way down the mountain.  There is also plenty of cross country skiing and snowshoeing in the area if that's more your speed.  Whatever it is, we'd love to help you enjoy the perfect winter escape! Book a room at our luxury Bed and Breakfast today!