There's no better time than now to plan a romantic getaway to our Bed and Breakfast in the White Mountains of NH. Not only is our Inn a great place to beat back to those winter blues and plan for a cozy mountain hideaway, but we're also home to one of the best restaurants for romantic dinners in the White Mountains. This means you can play outside in the snow until you can't feel your fingers and toes, and then you can come back to the warm sanctuary that is our Inn for the duration of the night, without the need to worry about where to grab your next bite to eat.
Cold winter days really are made for cozy, romantic retreats. There's one that stands out far above the rest, and that is our cozy & luxurious Bed and Breakfast in the White Mountains of NH.  If you find yourself needed a little escape from the mundane, consider leaving the world behind and booking a trip. Our Bed and Breakfast is located within minutes of Franconia Notch State Park, and just minutes away from some of the top ski resorts and other attractions in the White Mountains, an area known for its breathtaking natural scenery.
We're just under 3 hours from cities like Boston, Portsmouth, and Portland, ME, which means it's an easy place to get away for a restful few days, too! If you've never experienced winter in the White Mountains, this year is the perfect opportunity. Choose your own adventure outside, or stay inside curled up in front of a crackling fire, sharing a bottle of wine and plenty of good conversations.  The choice is yours! Book your room at our luxury Bed and Breakfast in the White Mountains of NH
Romantic Dinners & Easy Getaways in the White Mountains
There's a lot to love about our Bed and Breakfast in the White Mountains of NH, not least of which is our amazing restaurant. Dining is an integral part of your experience here at the Inn, and one we pride ourselves on immensely. It's been a challenge owning and operating a Bed and Breakfast and restaurant over the course of the COVID-19 pandemic, but we pivoted when needed to offering takeout dining and haven't looked back since.  We look forward to getting back to some sort of normalcy with our restaurant, where guests are free to linger and enjoy their table for the night with our famed European style dining (no rush to get you out the door!).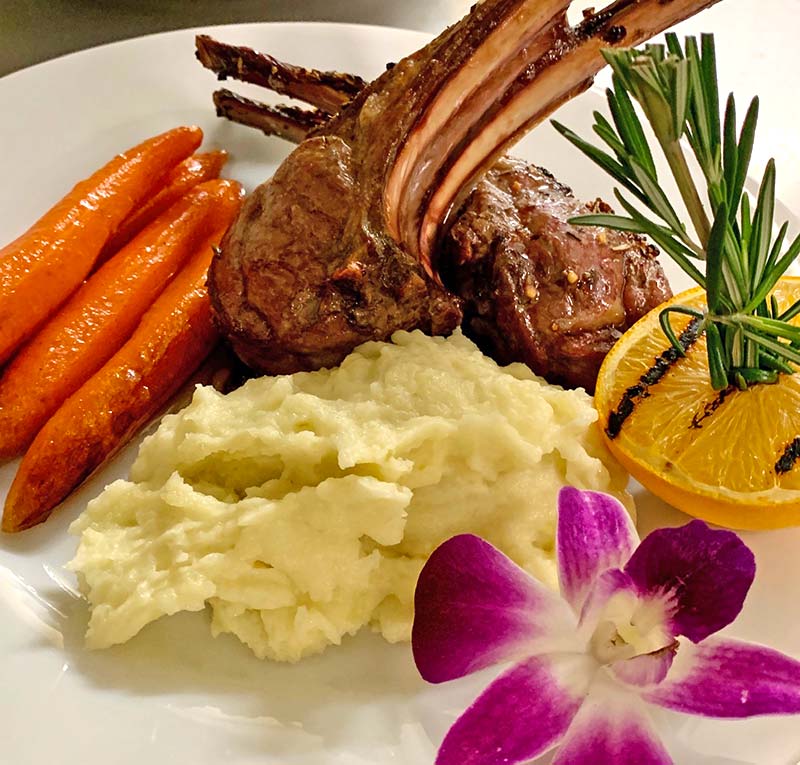 We are a Bed and Breakfast, so you can expect your day will start with a delicious breakfast, served to you in our socially distanced dining room. Enjoying a leisurely breakfast is one of the most luxurious experiences you can have in life, as it's rare that we treat ourselves to something this special on a regular basis! You can certainly expect anything but a boring breakfast while here.  We believe that a top-notch and delicious breakfast, which is beautifully presented to our guests, creates a lasting and memorable experience. Not only that, but it provides the perfect fuel for your days' worth of adventure ahead.
The mouthwatering dishes at our 5-star restaurant are handcrafted by our chefs using only the freshest and locally-sourced ingredients possible. This includes things like produce and herbs grown in our own gardens. We serve aged cheddar from Harman's, goat cheese from Vermont, and maple syrup from Sugar Hill. In the afternoons, we start serving guests at 4:00 pm with a delicious selection of small bites and cocktails. It's a great way to unwind from your day.
When it comes time for dinner at our Bed and Breakfast in the White Mountains of NH, you most certainly won't be disappointed. As we mentioned earlier, the table is yours for the evening, which leaves plenty of time to linger and enjoy plenty of laughter and good conversations; the very foundation of a healthy relationship! Throughout the evening, we'll treat you to a magnificent 4-course menu that is focused on a balanced symphony of flavors. You can also purchase items a la carte.
To go along with your delicious dinner at our Bed and Breakfast in the White Mountains of NH, we offer an extensive and award-winning wine list. Our dinner service is incredibly popular and is not just for guests at the Inn. Make sure you make your reservations in advance!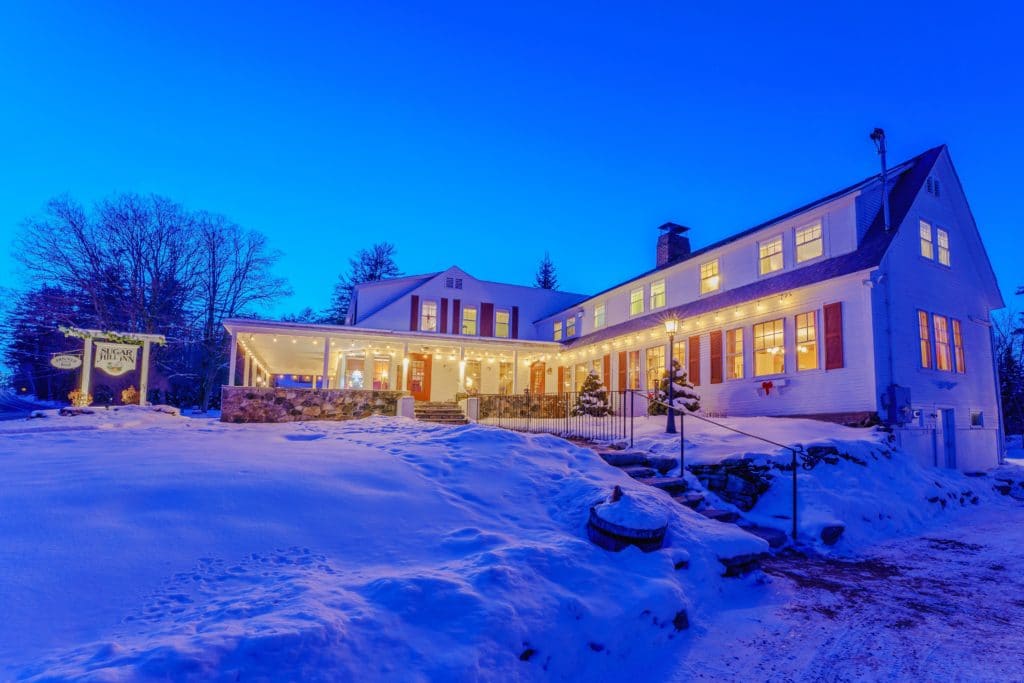 Stay at Our Bed and Breakfast in the White Mountains of NH
While the White Mountains are a great draw to the area, what really makes this area an appealing getaway are stunning lodging destinations like our Bed and Breakfast in the White Mountains of NH. Our Inn has been called the #1 destination in New Hampshire at which to celebrate a special occasion, be it an anniversary, a birthday, a surprise engagement, or something else, and it's in part thanks to the luxury ambiance and our romantic restaurant.
At the Sugar Hill Inn, we are dedicated to every aspect of the guest experience from the very moment you arrive here.  We offer a range of luxurious guest rooms and vacation cottages, each of which has been thoughtfully designed to showcase our beautiful views and to provide you a luxurious retreat. The amenities in our rooms are extraordinary, too, which include things like whirlpool tubs in some rooms, a plush king or queen bed, fireplaces, and more.
Winter is a wonderful time of year to curl up and get cozy, and there's no better place to do it than our bed and breakfast in White Mountains in NH.  Outside, you'll find a wintry wonderland just waiting for you to enjoy.  Inside, you'll find cozy spaces and romantic moments. It's the perfect antidote to stress at this time of year. Beat your winter blues and come spend some time with us this winter at our Bed and Breakfast in the White Mountains of NH!