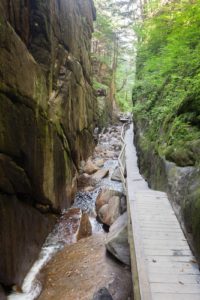 At the Sugar Hill Inn, we realize how lucky we are to be surrounded by the incredible beauty of New Hampshire's White Mountains. When you visit us this spring and summer, you'll find that there are plenty of beautiful parks to wander through, peaks to climb, and towns to explore. There's little doubt that one of our favorite places, though, which we happily refer each and every one of our guests to, is Franconia Notch State Park. It's a truly special place, and one that certainly needs to be on your itinerary anytime you're near the White Mountains. Best yet, it's less than 10 minutes from our luxury Bed and Breakfast, making it easy to get to day after day, taking full advantage of the many delightful things to see and do there. Take the time to explore this gem with us this spring or summer, and book your room at our luxury New Hampshire Bed and Breakfast today.
Your Guide to Franconia Notch State Park
Perhaps the most famous and notable attraction within Franconia Notch State Park is the Flume Gorge. The Flume Gorge is, without a doubt, worth the visit. It opens for the season in May, and stays open until November. The Flume Gorge is a natural 800 ft. long gorge that cuts through the park. Granite walls rise and tower above you on both sides, reaching heights 70-90 feet, and a width of as little as 12, and as many as 20 feet between then. Walk to the top of the gorge, and you'll enjoy the views of Avalanche Falls, a 45-foot waterfall.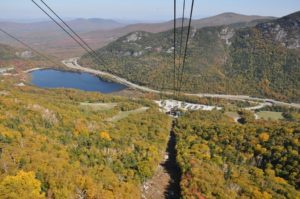 But that's not all there is to Franconia Notch State Park. Here, you'll find miles upon miles of hiking trails, biking trails, an aerial tramway that takes you to the top of Cannon Mountain, rock climbing, birding, fishing, or just relaxing, surrounded by the gentle sounds of Mother Nature. Aside from the Flume Gorge, here are a few of our other favorite attractions in Franconia Notch State Park:
Afterward an adventurous and fun day spent in Franconia Notch State Park, return to the luxurious accommodations of the Sugar Hill Inn. We have a restaurant on site, where you can enjoy a hassle-free gourmet dinner. The Culinary Experience is an integral part of any stay at the Sugar Hill Inn, where are executive chef uses only the freshest local products, including herbs grown in our own garden. Book your room at our luxury Bed and Breakfast in the White Mountains today!