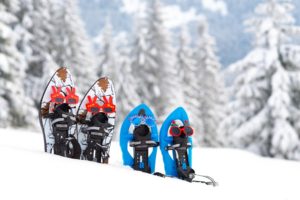 There certainly has been no shortage of snow in the White Mountains of New Hampshire this winter. If you're ready to get outside and play in the snow, Sugar Hill Inn is the perfect winter destination. The Sugar Hill Inn is in the heart of New Hampshire's ski country, conveniently located near Cannon Mountain, Bretton Woods, and Loon Mountain, as well as many of the area's finest trail networks and recreation centers that are popular for snowshoeing. A long day playing outside deserves a warm and relaxing place to call home, and that's exactly what you'll find at the Sugar Hill Inn. Come home in the evening for a cup of tea, hot cider, or your favorite beverage served at our in-house tavern, all before retiring to the luxurious accommodations that await you. The snow is waiting. Book your room at our New Hampshire Bed and Breakfast today!
The Best Snowshoeing in the White Mountains
There is something simple and magical about being the first one out on the trail after a fresh snow, making new tracks with nothing but the gentle "swish, swish" of the snowshoes beneath you. In the White Mountains, there's certainly no shortage of wooded trails to explore by foot, and some even have extended trail systems that can be enjoyed for an entire day or more. The Sugar Hill Inn has two pairs of snowshoes available to you on a first-come first-served basis. Here are a few of our favorite places to go snowshoeing near the Inn:
After a full day of adventure, there's little doubt you'll be ready to return to the Sugar Hill Inn, where our warm and inviting atmosphere will provide you with the perfect respite for some much needed R&R. The Sugar Hill Inn is a destination unto itself, which is one of the many reasons we have been consistently ranked one of the best Bed and Breakfast's in the area. We are known for our fine dining, original art and stylish guest rooms and cottages. From the moment you arrive, you'll see what sets us apart from our competition. Book your getaway to the White Mountains this winter, and let us take care of you at the Sugar Hill Inn Bed and Breakfast.