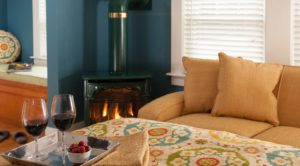 With the New Year just around the corner, now is the perfect time to plan in a romantic getaway. The New Year offers us the perfect excuse to focus inwards, to nurture relationships with those closest to us, and to focus on our overall health and wellbeing. We can think of no finer place for this than the luxury Sugar Hill Inn Bed and Breakfast nestled in the stunning White Mountains of New Hampshire. Here, you'll find a sense of peace and serenity, incomparable natural beauty, and exceptional hospitality. For the romantic getaway of a lifetime, book a room at our New Hampshire Bed and Breakfast today.
A Top Romantic Getaway Destination in the White Mountains
Whether you want to head out for an afternoon of skiing, cross-country skiing, or exploring the scenic White Mountains, or whether you'd prefer to just sit back and relax while we pamper you in style, our luxury Inn is the perfect place to spend some quality time this winter. The Sugar Hill Inn is a destination unto itself, which is one of the many reasons we have been consistently ranked one

of the best Bed and Breakfast's in the area. We are know for our fine dining, original art and stylish guest rooms and cottages. From the moment you arrive, you'll see what sets us apart from our competition.
Our Innkeepers are here to help every step of the way, and will provide the guidance you need to design your ideal getaway, whether that means arranging outdoor activities, tours, dining, spa treatments, or just making the most out of your time in the White Mountains. Beyond exquisite hospitality, our suites are elegantly designed with your comfort in mind, with luxury amenities that set the perfect stage for your romantic getaway. You'll want for nothing during your time with us, which is the entire point of a getaway in the first place.
So as you contemplate the many blessings that will come to you in 2019, consider starting the year off with a romantic getaway to New Hampshire's Sugar Hill Inn. Book your room today.