Chapter 17 The Art of Innkeeping
I was never really one who hangs out in bars. It never really made sense to me to be standing four deep at the trendy bar of the moment or waiting in line at the cool club hoping to get in. The sports bar with the huge flat screen TVs and cheap beer was also not my style. If I had the remote control we would have been watching CNN or the TV Food Network.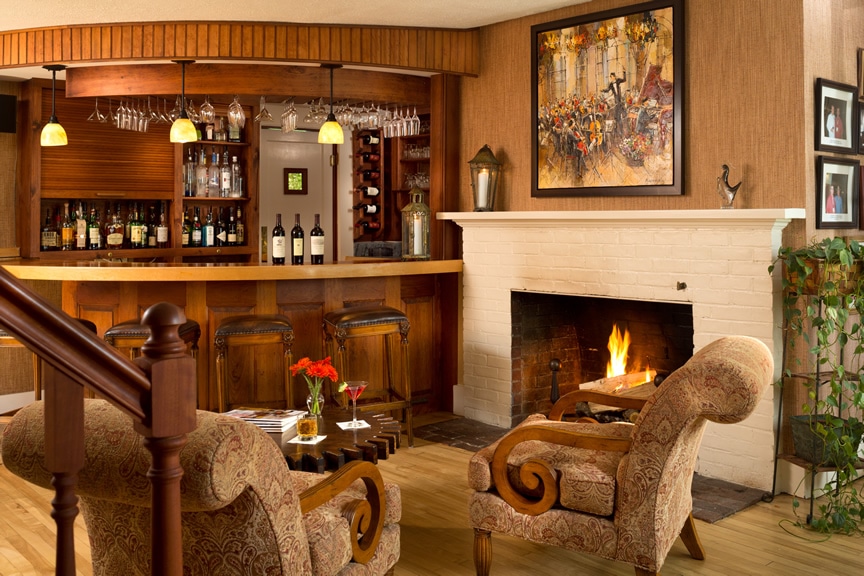 However, I have always liked hotel bars. Those in the top hotels always seem so classy and comfortable whether you are seated in a comfy leather club chair, at a cozy table for two, in front of a massive hand carved mahogany bar or on an outdoor deck with mountain views. The quality of the service, drinks, glassware, and inviting atmosphere makes a huge difference to me. I know that you pay a premium for this but to me it's worth it. On a recent trip with Karen to Washington DC to visit my daughter Sara we enjoyed resting our tired feet after a day of sightseeing at the Willard Hotel Bar. I am a sucker for the salty treats and vodka tonics can be so refreshing. I also love the outdoor European Cafes. There is nothing better than sitting in the square of an Italian hill town with a glass of local wine taking in the views and people watching. Packing a bottle of something in my suite case and drinking it from the bathroom cups to me seems very unappealing just to save a couple of bucks. By the way at the Sugar Hill Inn we are always happy to send you back to your room with Riedel stemware.
Hotel bars don't need to be large but they do need to be inviting. It was our plan to have such a bar at the Sugar Hill Inn. We refer to the room as the Tavern. We have noticed that guests that spend time in the Tavern enjoy their stay more than guests who don't. Even if you don't drink, enjoy early morning coffee, afternoon small bites or the new Tavern dinner menu. The Tavern is the heart of the inn. Being a small intimate inn you don't need to be very outgoing to strike up a conversation with another guest or staff member. It's interesting that at a large hotel there is almost no interaction between guests but at a small inn with only 14 rooms it is easy and natural. This is why staying at a small hotel or inn is so inviting and stopping for a drink in the Tavern before dinner is so worth it. Do you want the inside scoop about what to see and do, just hang around the Tavern.
My knowledge of bartending was very limited when I purchased the inn and what I did know I learned mostly from my family. My family always drank vodka tonics. The lime was very important. When my brother married Barbara the family was introduced to gin. My Grandfather's drink was a highball. To him this meant Canadian Club and ginger ale. After the first slip he would say "the good Lord knows I need it". From my parent's travels I learned about Campari and Grapa. My Dad did a lot of business in Switzerland and after dinner they would smoke these funny hand rolled cigars and drink Grapa. My mother was a light drinker but did enjoy Champagne. She also liked to add Kirschwasser along with sugar to fresh strawberries for desert. From my brother and his under aged friends I learned about the 7&7. Fortunately he is all grown up now and likes Belvedere on the rocks. For my daughter's high school graduation party I found the perfect recipe for Frozen Margaritas. These were for the adults only and they were delicious. My daughter is 28 now and likes bourbon. I am sure that her liking bourbon dates back to me being politically incorrect by saying women generally do not like the stuff.
Obviously in that first year I did not have the skills to be my own bartender so we hired Deb.
Over the years Deb had acquired bartending skills at several jobs. At the time I was not in a position to analyze her bartending knowledge but her personality seemed perfect for the job. We went on a shopping trip to the state liquor store and I purchased whatever Deb said. Deb's skill as the Bartender was basic but guests loved her because she always had a story to tell. If we were running behind in the dining room Deb would tell one of her bear stories and no one would want to be seated until the end. She was also good at introducing guests and encouraging conversation. Many people who met her before dinner would go back after dinner just to pick up the conversation they had previously started. At the end of the season Deb announced that she would be going to Florida to help her daughter who was expecting her first baby.
Next we hired Susan and she was equally good but very different from Deb. Susan had just complete the program at the Boston Bartending School and to her bartending was a serous profession. She was a doctor of the cocktail. Guests would tell her their likes and dislikes and she would make a customized drink. Susan also developed price lists, systems and procedures so that the bar could be a serious profit center. Susan also taught the staff including myself the fundamental of bartending so that we could manage on her day off. Bartenders depend upon tips. Being only a small inn, put a cap on how successful any bartender could be so at the end of the 2007 winter season Susan took a position with the Mount Washington Hotel. We have stayed friends with Susan and Deb and from time to time they would pop in for a visit.
After Susan I became the bartender. It was true that both Deb and Susan could out sell me however the incremental sales were less than the added payroll cost. It also gave me more direct contact with our guests which were both good for me and our guests. Pour someone a couple of drinks and they will tell you anything you might want to know.
In the planning stages for the Tavern I would have dinner at the bar of the better local restaurants and observed what was on display, their equipment, and the drinks that were being made and how they were made. I have also learned a ton from just listening to my guests. I have to say to my more extroverted friends and colleagues that listening is highly under rated. One day a guest called to make a dinner reservation and said it was her husband's birthday and she wanted to know if we had Basil Hayden's Bourbon, her husband's favorite drink. I said, I was not familiar with it, but if it was for sale in the state we would get it. When the couple arrived at the table a glass of Basil Hayden's on the rocks was waiting as requested. That night we added the bottle to our Bourbon shelf and it has become very popular. I learned early that the premium brand of my parents' generation and my early adulthood were now considered ordinary. Smirnoff has been replaced by Grey Goose, Belvedere, Ketel One, Ciroc. Jim Bean and Jack Daniels have been replaced by Nob Creek, Maker's Mark and Basil Hayden's.
We have the nicest guests and one day someone gave me a bottle of Talisker 10 year old Scotch. Thinking that I did not like Scotch I put it on the shelf and to my amazement it started to sell. I had no idea how special that bottle was. For years people would drink blended Scotch such as Chivas Regal, Dewar's, J&B and Johnnie Walker. A blended Scotch is a mix of both malt whiskies and grain whiskies, sourced from several different distilleries. By doing this the producer can create a flavor profile with mass appeal and a consistent product from year to year. Blends represent 90% of Scotch sales but not at the Sugar Hill Inn. The excitement in the market place is all about single malts. Each of Single Malt Scotch is very distinctive. These are very popular with our guests. Tasting and collecting single malt Scotch among enthusiasts and connoisseurs is a growing trend.
Premium small batch bourbons are also very much in fashion. I recommend Whistle Pig from Vermont. It is 100% straight rye whiskey although not technically a bourbon.
At the bar the more demanding a patron is the easier it is to please then. A serious drinker knows exactly what they want and will clearly spell out exactly how their drink should be made. We also have many guest who at home rarely drink and don't really know what they want. In many cases there is a vague memory of a drink enjoyed years ago on the honeymoon in Barbados. Also I think the guests were hesitant to ask for things we might not have. To fix this problem I developed a drink menu. Creating this menu was a major step in upgrading our beverage service. Being a small bar we had to pick carefully what to stock. My goal was to develop a list with wide appeal. We included many of the classics that are back in style such as Old Fashions, Tom Collins and Manhattans. The drink menu not only helped the undecided but also played an important part in raising the bar for our beverage service.
As with most undertakings at the inn it is a two-step process. At first the goal is to become competent and comfortable follow by taking it to the next level of perfection. Each drink was researched to develop the perfect recipe. We now measure precisely the ingredients for each drink. This method makes a perfect drink every time. The recipes are on index cards so anyone on the staff could pour a drink if I was not available. Careful measurement is not considered amateurish but instead the preferred method of serious bartenders. The free pour method, based upon a count, is popular at busy bars because it is faster. We also banned all mixes such as Bloody Mary's or margarita mix. For a good margarita all you need is good tequila, fresh lime juice and simple syrup. The mixes are way too sweet. For those who like their Bloody Mary's spicy, I go back to the kitchen and request freshly grated horse radish.
I remember when having a premium beer meant drinking an import such as Heiniken. While I still have Heineken and Stella Artois we sell very few. Remember when lite beers were big? They are dead in the water too. The big nation wide brands such as Budweiser also don't sell well at the Sugar Hill Inn. It's all about local micro brews. This is great for us because we want guests to experience our local New Hampshire beers. We frequently recommend that our guest visit our local brewpubs for lunch or a causal dinner. The other trend is cult beers and a glass of these beers can be as expensive as a glass of wine. We sell Dogfish Head 90 Minute Imperial IPA for $10 a glass. I thank my younger staff for keeping me informed on these.
A well-made drink in a nice glass, relaxing surroundings and the company of your special someone is all part of the "good life" and that is what the Sugar Hill Inn is all about.
Want to know more? Read our book "Sugar Hill Inn Art of Innkeeping." Available from Amazon and Barnes and Noble.