The Canadian border is just 75 miles north of Sugar Hill. For years the Sugar Hill Inn, in New Hampshire's White Mountains, has been a stopping point on the way to explore our neighbor, Quebec, to the North.
After our fall busy season Karen and I headed north. The first night we stayed at Manoir Hovey, a wonderful inn on a lake about 25 miles north of the border. Their restaurant is excellent. Chef Val and his wife Nancy joined us for dinner.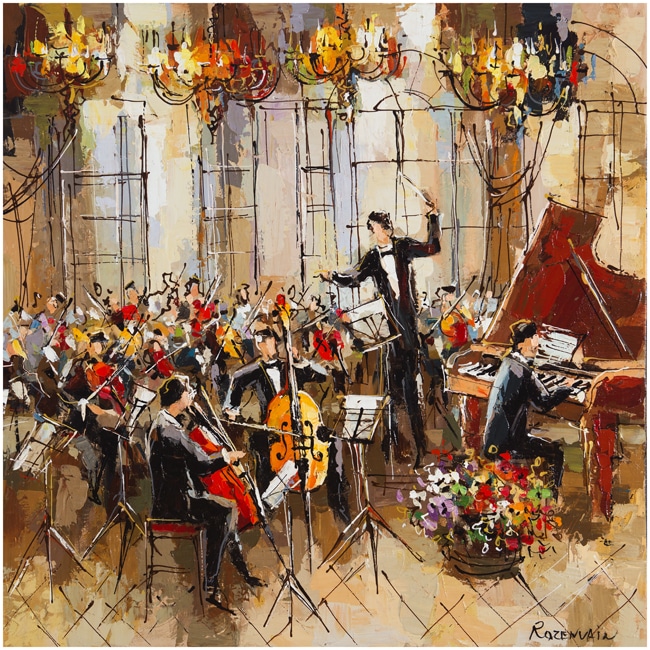 Val and Nancy stay an additional night and Karen and I headed to Montreal. We stayed in the Old Port area which we loved, however our hotel in spite of strong TripAdvisor reviews was a disappointment. While we loved the old brick and exposed beams, these details did not compensate for a totally dysfunctional room. I will be nice and not name names.
The old port area is full of art galleries. Exploring galleries is something that we have always enjoyed. This one gallery in particular, Galerie d'art Le Bourget had a painting, Concert au grand salon by Michael Rozenvain, which caught our attention. The artist captured the excitement of a live orchestra with striking color and details. While I am always on the lookout for great art for the inn, I take my time thinking about big purchases.
The beauty of the painting stayed with me. I discussed it several time with Karen and with her encouragement purchased it a few days before Christmas. Because of the high local taxes in Quebec it is actually more cost effective to have a painting shipped.
While most hospitality properties display limited edition prints or mass produced paintings from China we enjoy sharing the real thing with our guests.
Artist Profile: Michael Rozenvain
Birth : Kiev, Ukraine, 1963.
Training : Michael Rozenvain attended art school in Kiev and later on continued his studies at the Lvov Academy of Decorative Art. He immigrated to Israel in 1990 where he achieved widespread acclaim from his numerous one-man shows and group exhibitions. Rozenvain is also very active in the creation of fresco paintings as well as monumental works of art for prestigious hotels and libraries.
Themes like the Mediterranean, cobblestone streets, French bistros, cafes and orchestras are Rozenvain's favourite subjects. His color scheme is rich and sultry, inviting the onlooker to hop into the painting for either a glass of wine or an espresso. Rozenvain applies many layers of paint, thus creating the illusion of depth through his highly textured canvas. His sense of composition and his agile paintbrush strokes are all elements that distinguish this artist and have made him famous worldwide. He currently lives in Canada.
Medium : Acrylic
Exhibitions : Numerous solo and group exhibitions worldwide.
Collections : Private and corporate collections in Israel and abroad.
Media coverage : Spring 2010, Magazin'Art, pg. 126
Publications Michael Rozenvain, Art Book, A & E Fine Art Inc.