Chapter 12 The Art of Innkeeping
That first year it was a rare day that I took time off from the inn for myself. I had about four hours on a beautiful mid-august afternoon and I decided to hike the Falling Waters Trail. The trail leads to a series of dramatic waterfalls and eventually to the top of Franconia Ridge. I explored the waterfalls but did not make it all the way to the top. The hike gave me time to think about the big picture and to analysis our progress. For most of the hike I was pondering my role as chef. The fall was coming and under prior management the restaurant served seven days a week in peak season. Somewhere on the way up I decided that we needed to hire a chef and by the time I had reached the parking lot I was 100% certain. It was time for me to focus on other things.
I contacted the culinary schools and placed an ad in our local paper. I needed a good chef. Inns of our size rarely had great chefs. My ad stressed the importance of a top school. There are a lot of chefs out there that just don't have a firm grasp of basic techniques. Ted was the first to apply and we had a nice talk but a few days later he called and said that the commute from Vermont was too far. A few days later Val applied. We sat on the front porch and had a very nice discussion. You could tell that Val really wanted this job and had spent considerable time envisioning this opportunity. While Val had not gone to a fancy culinary school it was obvious the school of hard knocks had prepared him well. Val had a long and impressive resume. Val was currently working as the chef for an assisted living center. They had told him that they wanted gourmet meals for their residents. In reality the residents wanted everything over cooked and Val hated the job and was even thinking that it was time for a career change. I emailed one of Val's references from a nearby inn. She simply said "he is a good egg". Based upon his enthusiasm, his correct understanding of how to make veal stock and the reference I hired Val Fortin.
Val grew up in Berlin, New Hampshire under difficult circumstances. After high school Val joined the Navy and saw the world. After the navy a caring uncle took him under his wing and introduced him to the culinary world. In the summer they would work in the seasonal restaurants of New England and then migrating south for the winter. Val was an eager student, watched everything, taking good notes and asking questions and reading cook books as if they were novels. It was also obvious that Val had natural culinary talent and was willing to work hard to develop it.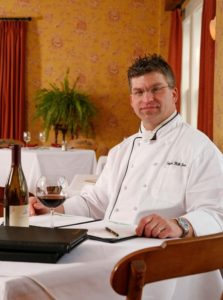 After meeting his wife Nancy, Val settled down in the town of Lisbon, New Hampshire. Val and Nancy have been married 14 years. Val has worked for most of the larger hospitality properties in the White Mountains including the Mount Washington Hotel, the Bretton Arms and Sunset Hill House. While working for the Mountain Washington Val was part of an elite team that represented the hotel in international culinary completions.
Val originally was going to start after the family's annual vacation to Maine. However, Val changed his mind about going to Maine and wanted to start as soon as possible. It was Labor Day weekend and I had a lot of guests so I was happy about an additional hand in the kitchen. I had already done most of the prep for the night so I suggested that Val come in about 5:00 to be ready for the first table at 6:00 pm. Val immediately took over, reducing my sauce to the right consistency and arranging everything for the night ahead. I watched Val execute the first few dinners with precision. I was no longer needed in the kitchen so I joined my family in the dining room that was visiting from New Jersey. That was my last night in the kitchen although I still am the breakfast chef.
Val was a self-starter and needed very little direction. We did talk a lot about our goals and vision for the restaurant but I was not going to meddle in the area of menus and recipes or be a know-it-all about suggesting more salt or toning down the garlic. I really wanted Val to run the place as if it was called "Fortins". Slowly Val started to expand the menu with entrees such as duck and osso buco. Karen and I love his duck so much we served it at our wedding. Other signature dishes such as the Trio of Soups and Val's Caesar Salad were early additions to the menu and have stood the test of time. I usually think of soup as a boring menu selection at a fine dining restaurant and usually ordered by those looking to shake off the chill of a cold night. Val with his Trio of Soups recreated this category. It was now all about flavor and an experience for the senses. Three espresso cups filled with a burst of flavor. I think that his white chocolate turnip soup is decadently delicious.
In the early days there were things that stood out about Val and his food that are equally true eight years later. The number one hallmark of Val's food is every plate is so visually delicious. The other very noticeable quality of Val's food is the layers of flavor. This is done thru attention to the small details such as finishing salts, truffle oil, a fried garlic chip, fresh herbs, freshly grated ginger…etc. Another notable characteristic is the strong sense of pride in being a chef and his reverence to the profession and it traditions and responsibilities. You can see it in his pride of wearing the uniform, belonging to industry associations, continuous study and experimentation, meticulously organizing the kitchen and volunteering his time at culinary charity events. Val is a strong believer in hard work. Even in the slow season when Val could have some extra time off we see him in cleaning his ovens, rearranging his kitchen and experimenting with new ideas.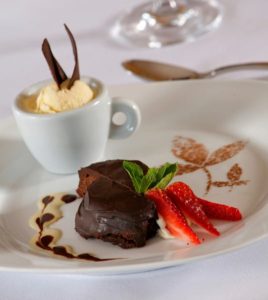 Shortly after Val's arrival I created a comment card for the restaurant. I think that guest feedback is very important and to this day we very carefully analyze every restaurant and inn comment card. It was originally a five point scale ranging from poor to excellent. Then I modified it by adding a score of six for outstanding. It was my thinking that we would rarely achieve a six but it would give us a target to shoot for. Based upon our comment cards we were consistently score either excellent or outstanding. Many guests were telling us that it was the best meal they ever had. What was interesting was that the most positive critiques were from our most traveled guests and those who go to fine dining restaurants the most. Of course not everyone thought this. When it comes to food personal preference vary a lot and there will be a divergence of opinion for any restaurant no matter how good it is.
This positive feedback crystalized our thinking and we set our sights on being the best fine dining restaurant in the White Mountains. The White Mountains are full of family restaurants but there are very few truly top end establishments. Val suggested that we set our sights on earning the Distinguished Restaurants of North America (DiRoNA)'s Achievement of Distinction in Dining award. The only DiRoNA restaurants in New Hampshire were the Bedford Village Inn and The Mount Washington Hotel. To become a DiRoNA restaurant required two years under the same management, a detail application that described every aspect of the restaurant operations and a secret under cover inspection. Since it would be over a year before we could apply that gave us the time to achieve the standard.
It's hard to be something that you haven't personally experienced so we planned a series of field trips. While a grand tour of Europe's best restaurants would have been nice it was not in the cards. May be some day. The first trip was an overnight stay and dinner at Manor Hoive in Canada. This is an amazing Relais & Chateaux property. The four of us had the tasting menu with paired wines. Every course was spectacular. For the cheese course, they have a cart with over 30 cheeses and this young woman knew the name and details of every cheese. In my head I was thinking where you find such a person. This was the first and only time I spent a $1000 for dinner but it was worth every cent. They also generously gave us a tour of the kitchen and all of their inn rooms.
On another day the entire serving staff (breakfast and dinner) attended a full day work shop on serving techniques given by the White Mountain Community College. This is where I learned to use a waiter's cork screw. On another trip we took all of the dinner servers and kitchen help to dinner at Thorn Hill. They also gave us a tour that included rooms, kitchen and wine Cellar. Both the ownership and the chef have changed at Thorn Hill since that visit. We appreciated their willingness to share their years of experience with our team.
Another year Val, Val's wife Nancy, Karen and I went to Quebec City and stayed at Auberge Saint-Antoine and had dinner at Panache. We analyzed everything we saw and tasted. I highly recommend St. Antoine. It is a wonderful boutique hotel. Our second night we went to an innovative restaurant called Toast. It was on that trip that Karen and became a couple. The old part of Quebec City is so romantic.
It's funny to say now, that back in our first year the dining room looked like a German Beer Hall. There was no hiding it even with white table clothes. At a meeting of the New England Inns and Resorts Association we met the design firm of Truexcullins and we hired them to give the dining room a completely new look. More about them in a latter chapter.
When the time came we sent in our application for DiRoNA. We nervously waited for the verdict. The inspector could be any one in the dining room so every night we had to give it our best. About two months later we received the good news in the mail. The report detailed everything including calling for the reservation, how they were greeted when arriving at the restaurant, the service and lots of details on the various courses. The report did indicate that our beverage service was not on the same level as the food. So we set our sights on earning the Wine Spectator award. Val and I went to Dallas to except the award at DiRoNAs annual conference.
Want to know more? Read our book "Sugar Hill Inn Art of Innkeeping." Available from Amazon and Barnes and Noble.