Tuesday night is date night for Karen and me.  We really love a leisurely dinner with a good bottle of wine.  We are usually so busy extending hospitality, it is a real treat to be a guest from time to time.  This list has been updated for 2016.  All of the restaurants below, we have tried recently and have enjoyed.  Some of them such as Cold Mountain, Gypsy Café, and Chang Thai we visit frequently.
1.  Sugar Hill Inn, Sugar Hill, NH 03586  603-823-5621  www.sugarhillinn.com
Of course the Sugar Hill Inn is number one.  It is my list after all.  Sugar Hill Inn is a romantic getaway known for fine dining.  Everything is made from scratch by our award winning Executive Chef, Val Fortin.  Val is a genius in combining favors and creating culinary art.  The wine list features over 100 wines from around the world.
The Sugar Hill Inn has received the Distinguished Restaurants of North America (DiRoNA)'s Achievement of Distinction in Dining award for 2009- 2015.  The Inn has also earned Wine Spectator's 2011-2016 Award of Excellence.
2.  Bailiwicks, Littleton, NH  603-444-7717
Bailiwicks is the area's most popular restaurant.  Diners are drawn by its cosmopolitan and lively atmosphere.
3.  Cold Mountain Café, Bethlehem, NH  603- 869-2500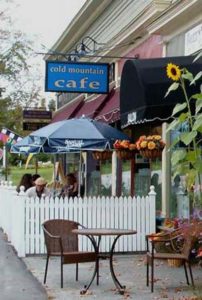 Cold Mountain is the type of neighborhood restaurant that every town needs.
4.  Gypsy Café, Lincoln, NH  603- 745-4395
The Gypsy Café is creative and casual with a great bar.
5.  Rabbit Hill Inn, Lower Waterford  800-762-8669
The Rabbit Hill Inn is a classic New England inn.  If you enjoy colonial charm and attentive service this is the place for you.
6.  Notchland Inn, Hart's Location, 603-374-6131
The scenic 45 minute drive is part of the experience.  Look for moose on the way.  Notchland has a magical storybook feel.  A traditional country inn dinner is served.
7.  Mount Washington Hotel, Bretton Woods, NH 800-258-0330
Experience the golden age of New Hampshire's grand hotels.
8.  Chang Thai Café, Littleton, NH 603-444-8819
This is a frequent choice of locals.  The food is light and healthy and the owners are very welcoming.  It is also the only sushi for miles.
9.  Tim-Bir Alley, Littleton, NH  603-444-6142
Excellent fine dining from a very creative chef.  The perfect place for a quiet and leisurely meal.  The architectural details of this historic Littleton structure add to the atmosphere.
10. Adair Country Inn Restaurant Bethlehem, NH 603-444-2600
A stately country inn serving traditional New England fare.
11.  Schilling Beer Co, Littleton, NH  (603) 444-4800
The best small batch beer.  Wood fired pizza; Outside dining; Very popular
12.  Horse and Hound Inn, Franconia, NH (603) 823-5501
Casual Country Dining with outside dining.  No a/c inside.