Chapter 8 The Art of Innkeeping
March 2007: My guests loved the inn as it was and that was why they were my guests. Many had been coming here for years. They were ok with an inn that was rough around the edges in exchange for lower rates. This was not an uncommon strategy, to cut costs to the bone, defer maintenance, keep the staff small and work like crazy, among White Mountain lodging properties. However that business model offered no hope of ever turning a profit and had failed the previous owners.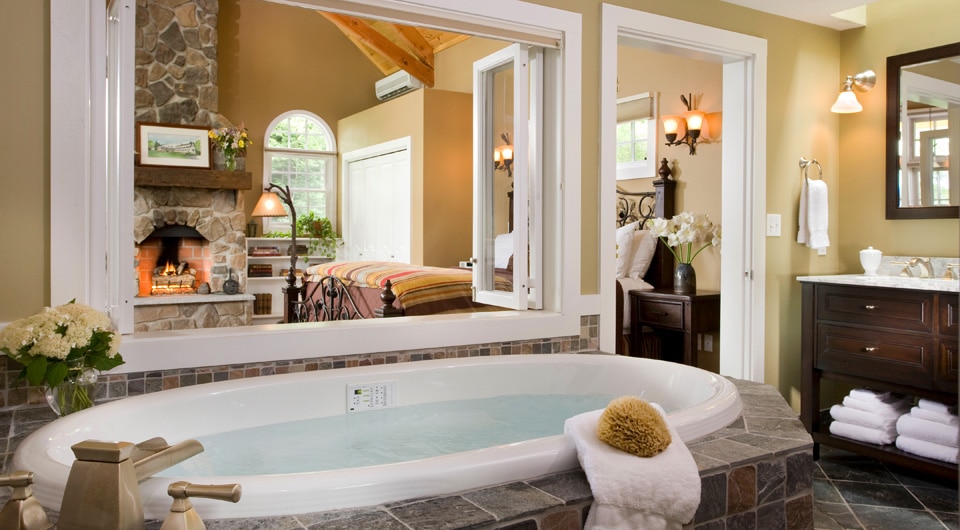 With an embarrassingly low occupancy rate only an optimistic dreamer would be thinking about adding new capacity. Part of the problem was that there was an oversupply of good but ordinary rooms in the White Mountains and we had to take a risk and do something remarkable to have any impact in this market place. The success of the newly renovated Peckett and Richardson Suites led us to believe that there may be opportunities for upscale accommodations.
I wondered to myself where did the fans of the Ritz Carlton stay in the White Mountains? Or maybe NH was just not one of those markets that attracted the luxury traveler. As an entrepreneur I went with my gut feeling that there was room at the top of the market for a one of a kind remarkable room. Only time would answer the age old question: If I build it will they come.
At the time, our cottages, in spite of being dated were more popular then similarly priced but nicer rooms within the inn. The idea of a Cottage in the White Mountains seems to capture the yearning for a cozy escape from everyday life. I was going to venture in somewhat uncharted waters by combining cozy comfort with luxury.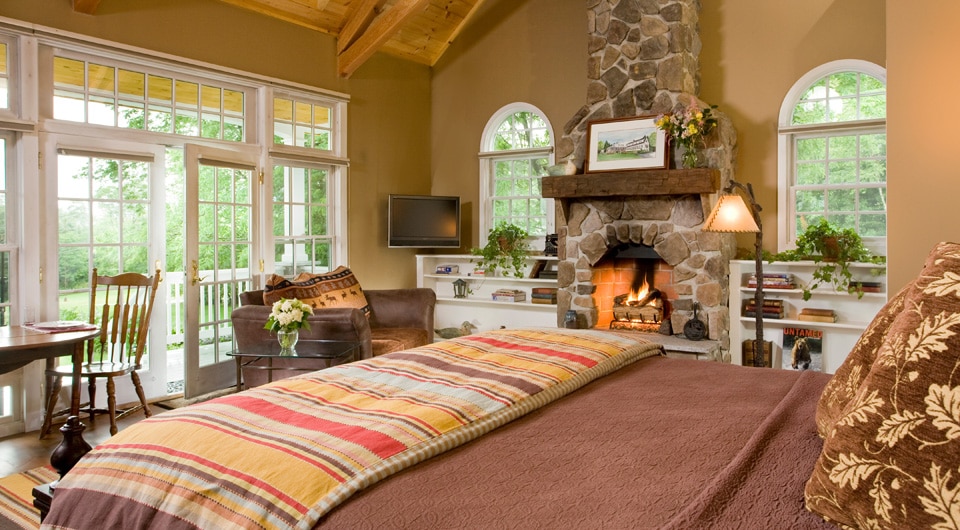 The secret of a country Inn, when compared to a new hotel or motel is that every room has heart, personality and history. There is something magical there that can't be explained in words. In the 1789 farm house those warm feelings are everywhere but extending them to new construction was going to be a challenged. In getting it right, I spent hours studying books on New England farm houses, country cottages, bungalows, and mountain escapes. I wanted to understand the essence of each type of structure. What makes a farm house tick and what is that draws people to a mountain escapes. The last thing that wanted to build was a "Disney Theme" room. The new structure had to be authentic and timeless in its appeal. The authenticity was to come from the use of natural material such as wood and stone and respecting the traditions of New Hampshire architecture.
The inspiration for the room came from my day dreams. I pictured French doors opening to an amazing view, a cathedral ceiling, porch swing, viewing a roaring fire from the luxury of a tub for two. With the oversized walk-in shower with body sprayers, rain head, etc… and Swedish Sauna I wanted to take the room beyond romantic and into the realm of being very sexy but tasteful.
The first decision was to hire Jeremiah. Jeremiah had built our bar and the library bookshelves. He was a craftsman not a contractor. He was passionate about making the Dream cottage a work of art. At every opportunity he added extra detail beyond the scope of the project. Mikel Smith, our tile and stone guy was also an artist. Watching Mikel build the chimney by selecting just the right stone and carefully putting it in place was fascinating.
To visually tie the cottage to the inn, the cottage was clad in white wood siding just like the main inn. The use of vinyl siding was totally rejected. Wide plank pine that closely matched the original 1789 flooring on the 2nd level of the inn was used. The stonework on the chimney, outside posts, foundation and fireplace closely match the inn's stone work.
The room also had to be romantic. Most hotel rooms, even expensive rooms, are more functional than romantic. We like to focus on cozy places for two, mountain views, warm fireplace, soft robes, soothing whirlpools and relaxing saunas.
By industry standards we spent way too much on construction and furnishing, however hindsight tells us that we were right to defy conventional wisdom. This is the hard part about being an entrepreneur. If you don't follow the crowd and succeed you are a genius for thinking out of the box and if you fail you are a dope for not following tried and true. Of course sometimes you are just lucky.
The cottage opened for business in late September 2007. The very first trip advisor review was so-so and we were concerned. As it turned out, the room has been wildly successful. The cottage has become very popular for Honeymoons and marriage proposals.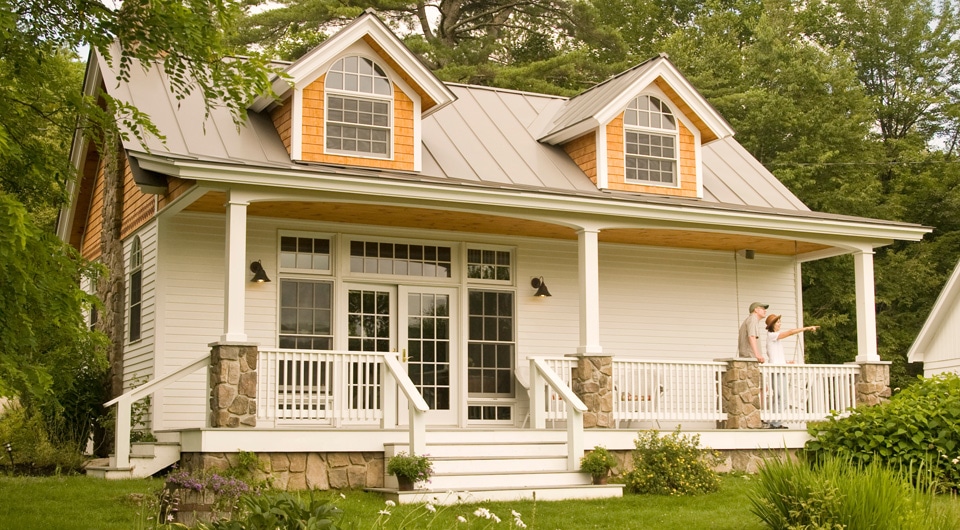 So, have we attracted the Ritz Carlton traveler? Well, not really and when they do come they prefer the traditional luxury of the Peckett and Richardson Suites. However the cottage is very popular with young successful professionals who value their time away together.
Besides from being our best room in terms of price and occupancy it has benefited the inn in ways that are harder to quantify. As a result of the cottage we have been written up in Every Day with Rachael Ray Magazine, became Yankee Magazine's editor's Choice, Earned "Best of New Hampshire" and featured in Cottages and Bungalows. Some people might say that we have been lucky to get such great press coverage. And that might be true. However, if we had done the ordinary we would not have had the opportunity to be lucky.
Want to know more? Read our book "Sugar Hill Inn Art of Innkeeping." Available from Amazon and Barnes and Noble.