Though there's plenty of autumnal beauty around New England each September and October, there's truly nothing as spectacular as New Hampshire in fall – especially when you visit the breathtaking White Mountains region of New Hampshire. The White Mountains cover around 1/4 of New Hampshire and are home to the tallest peak in the northeastern United States. It's also home to one of the most famous fall drives, the Kancamangus Highway. 
There are plenty of things to do in New Hampshire in fall, from scenic drives to hiking to the soaring peaks of the White Mountains for birds-eye views of the foliage below. Whatever you choose to do during the fall months, you can count on being surrounded by some of the most breathtaking New Hampshire fall foliage around. Fall is a busy season in New Hampshire, so to make the most of your trip, we encourage you to book well in advance. 
Though the star of any fall getaway is likely to be the fiery autumnal hues surrounding us, a close second is a stay at our top-rated Bed and Breakfast in New Hampshire. Not only do we offer friendly hospitality and a convenient location to all of the top attractions in the White Mountains, including Franconia Notch State Park, but we do it while also offering an incomparable escape that is ideal for romantic getaways, special celebrations, and quiet weekends away. 
This fall is the perfect opportunity to discover new waterfalls and hiking trails, seek out picturesque covered bridges, and otherwise take in the incredible scenery of New Hampshire in fall. We'd love nothing more than to share our favorites with you. Book your room today.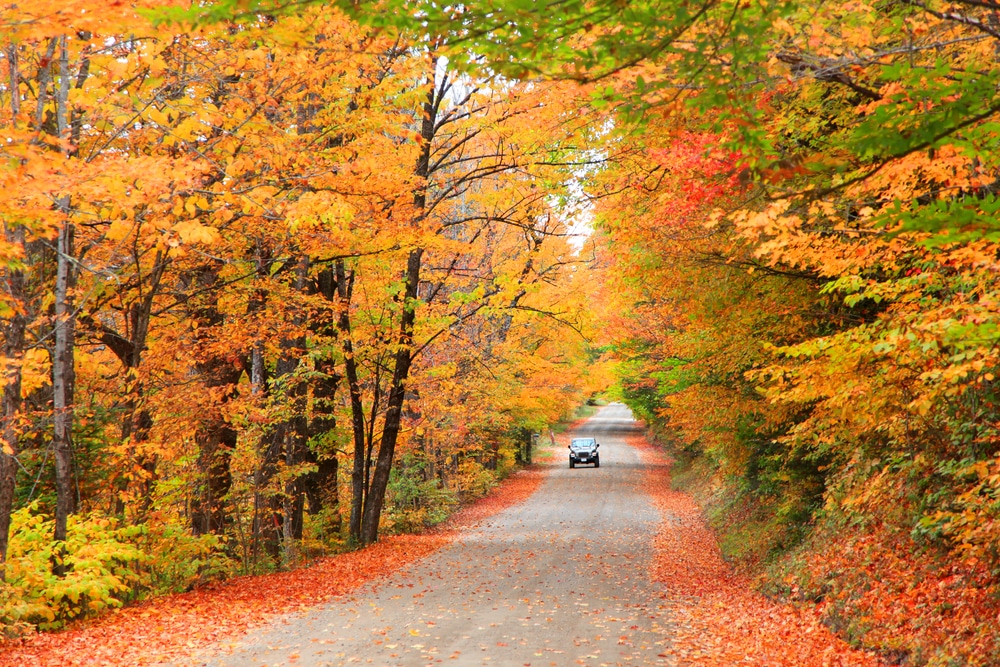 Enjoy the Best of New Hampshire in Fall
New Hampshire in fall is a phrase synonymous with explosions of color – fiery shades of crimson, bright pops of orange and yellow, and the steady evergreens to round it out – color is everywhere in New Hampshire in fall. Visitors come from all over the world to see Mother Nature's annual display, whether it's to take famous drives like the Kancamangus Highway, hike the towering peaks of the White Mountains, or take to the summit of famed Mt. Washington. 
There's nothing more beautiful than New Hampshire in fall, and we'd love the chance to show you just how special a fall getaway at our Bed and Breakfast can be. The White Mountains have a stellar reputation for being one of the best places to see fall foliage in New England, and given how short the average foliage season is, you'll want to make sure you plan well in advance to see it. The foliage around here typically peaks in mid-September, but depending on the year, it can hang around throughout October, too. Below, we've included some of our favorite ways to enjoy New Hampshire in fall.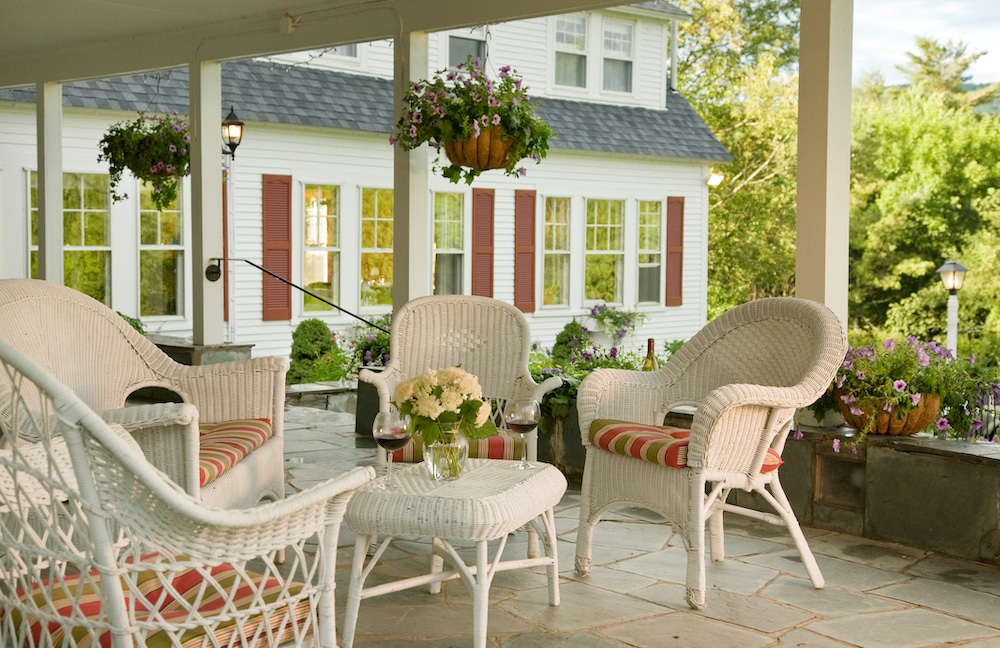 An Unbeatable Bed and Breakfast in New Hampshire
As beautiful as it is in New Hampshire in fall, you really don't have to go far to enjoy it. Sit back and relax right here at our Bed and Breakfast in New Hampshire, and you'll be surrounded by some of the area's best scenery – not to mention plenty of friendly hospitality! While most visitors to the area don't get much beyond Franconia Notch State Park or the peak of Mt. Washington, we'd love to share all of our favorite ways to enjoy New Hampshire in fall with you – including some things you may never have heard of! 
Whether you venture far away for the day or stick close to our Inn, we offer a fantastic place to wrap up your evening. Onsite at our Bed and Breakfast in New Hampshire is one of the best restaurants in the White Mountains. So when you're done for the day and ready to put your feet up, you can – knowing you won't have to get back up and head out for dinner. Our award-winning restaurant has received the Distinguished Restaurant Award of North America and the Wine Spectator Award multiple times. It is an experience that consistently gets rave reviews from all who visit.
When it's time to retire for the night, we offer a choice among guest rooms, as well as more private vacation cottages. All lodging has been thoughtfully decorated and comes with a wonderful range of amenities, including things like double whirlpool bathtubs, fireplaces, and private porches in some cases. Our most popular amenity is our daily made-from-scratch, gourmet breakfast – the perfect fuel for even more beautiful adventures around New Hampshire in fall. With so many fantastic perks to enjoy, it's time to book your room at our Bed and Breakfast in New Hampshire!