When you picture a cozy mountain getaway in New Hampshire, odds are you picture something that looks remarkably like our romantic New Hampshire Bed and Breakfast. Our charming and romantic New Hampshire getaway is unlike anything else you've ever experienced, surrounded by the natural beauty that is wonderful at any time of year.  But add a fresh blanket of sparkling white snow on top of everything, and this area becomes your own private winter paradise.
Cold winter days really are made for cozy, romantic retreats – and this is one of our favorite things about owning our luxury retreat in the White Mountains!  If you find yourself needed a little escape for the mundane day to day this winter, consider leaving the world behind and booking a trip to our New Hampshire Bed and Breakfast.
We're located just a few minutes from Franconia Notch State Park in New Hampshire's White Mountains.  Choose your own adventure outside, or stay inside curled up in front of a crackling fire, sharing a bottle of wine and plenty of good conversations.  It won't take you long to realize just how special our New Hampshire getaway can be.  Book your room at the luxury Sugar Hill Inn today!
Wine and Dine at our New Hampshire Bed and Breakfast!
There's a lot to love about spending a romantic New Hampshire getaway at our Bed and Breakfast, but bearing witness to the dramatic mountain scenery that dominates this area is easily one of our favorites!  But, that's not the only reason to come visit us, either. Apart from enjoying the sheer beauty of this part of New Hampshire, there is plenty to love about our Bed and Breakfast itself!
Choosing to stay at our romantic New Hampshire getaway means you can expect to find all the comforts of home, but none of the stress that comes with it.  As you feel your stress melt away, it will be replaced by a welcome sense of calm that can only come from being somewhere truly indulgent.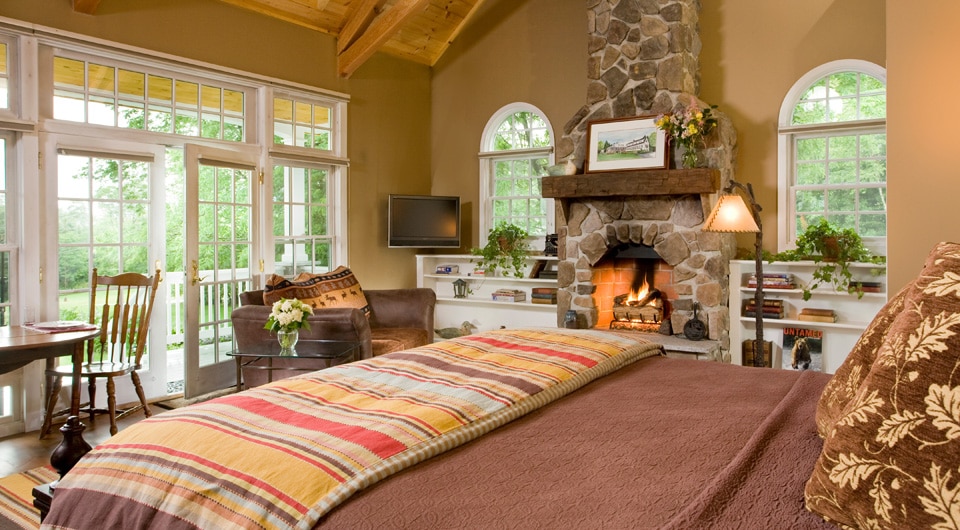 Once you're here, let our inviting guest rooms do the work as you sink into the luxurious accommodations. We have 9 guest rooms available in the Inn, along with 5 rooms in our deluxe vacation cottages to choose from.
Each of our 9 inviting guest rooms inside of the main house is uniquely decorated and offers an inviting space to relax and unwind. Each room features a private bath, some of which come with double whirlpool tubs, a plush king or queen bed, fireplaces, mountain views, and even some private porches.
Much like our traditional guest rooms, the deluxe vacation cottages offer a unique and inviting space and are the perfect place to spend a romantic New Hampshire getaway.  These cottages are much more spacious than our traditional rooms and feature a wonderful range of amenities, including private baths, luxury robes, gas fireplaces, flat-screen TVs with DVD players, and Nespresso Espresso Makers.
These cottages have king-sized beds, cozy fireplaces to curl up in front of, porches to relax on, and many of them have whirlpool/jacuzzi tubs comfortable enough for two.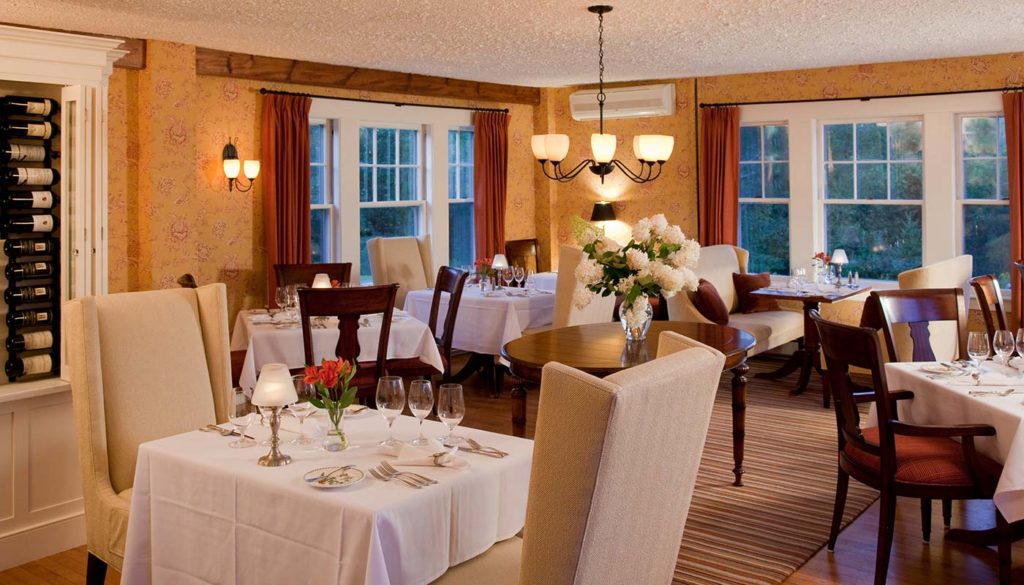 Wine & Dine at our New Hampshire Getaway
Whether you stay in the main house or retreat to one of our luxury cottages, all guests at our luxury New Hampshire Bed and Breakfast will enjoy a complimentary breakfast each morning of your stay, as well as afternoon bites. But the food doesn't stop there!  The Sugar Hill Inn is also home to one of the finest restaurants in the White Mountains.
Dinner at our New Hampshire Bed and Breakfast is a delectable experience; a true feast for the senses! Dining with us is also an integral part of your stay. We use only the freshest local produce, which includes seasonal herbs grown in our own gardens. Cocktails, beer, and wine can be enjoyed in our tavern with casual fare, but once you've been seated in our restaurant, the table is yours for the evening.  There's never any rush!
Our dinner service is incredibly popular and is not just for guests at the Inn. Make sure you make your reservations in advance!
Winter is a wonderful time of year to curl up and get cozy, and there's no better place to do it than our New Hampshire getaway.  Outside, you'll find a wintry wonderland ripe for adventure.  Inside, you'll find cozy spaces and romantic moments. It's the perfect antidote to stress at this time of year. Book in some cozy time at our romantic New Hampshire Bed and Breakfast this winter!