As the stunning vibrancy of fall foliage ebbs from the White Mountains, do you find yourself longing for a cozy mountain hideaway?  Winter is the perfect time for romantic getaways in New Hampshire, especially when you find a charming retreat nestled in the heart of the White Mountains. Whether you plan to do a little downhill or cross country skiing, experience the countryside on a snowmobile, or otherwise enjoy this wintry wonderland, there's no better place for romantic getaways in New Hampshire than our White Mountains Bed and Breakfast.
The White Mountains of New Hampshire are known for their breathtaking beauty and unique opportunities to get outside and explore the natural world.  This is a popular area to visit year-round, but it is an especially beloved area when the winter snows begin to fall. Not only is it unbelievably beautiful here, but it's easy to get to, too!  Our White Mountains Bed and Breakfast is just under 3 hours from cities like Boston, Portsmouth, and Portland, ME, which means it's an easy place to get away for a restful few days.
If you've never experienced winter in the White Mountains, this year is the perfect opportunity.  With so much charm and character, and plenty of things to keep you busy, you'll soon discover why it's one of the most romantic getaways in New Hampshire.  Book your romantic getaway at our Bed and Breakfast in the White Mountains today!
We Are One of the Most Romantic Getaways in New Hampshire
While the White Mountains are a great draw to the area and bring in visitors from around the globe, what really makes this area one of the top romantic getaways in New Hampshire are the extraordinary places, like our Bed and Breakfast. We've been called the #1 destination in New Hampshire at which to celebrate a special occasion, be it an anniversary, a birthday, a surprise engagement, or something else.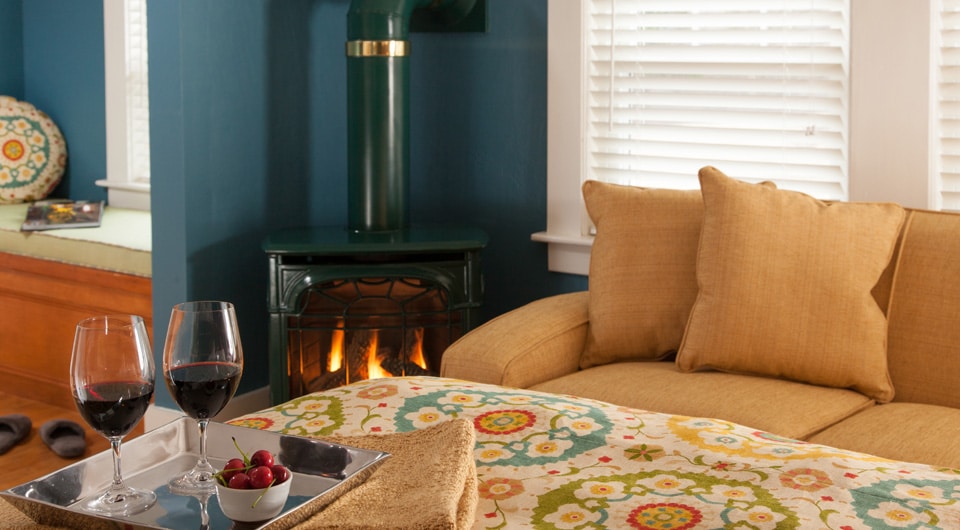 The romantic ambiance of our Inn stems from not just our cozy mountain location, but our dedication to the guest experience.  Our spacious guest rooms are thoughtfully designed with beautiful views and elegant furnishings and serve as your retreat while you're here. The amenities at our White Mountains Bed and Breakfast are plentiful, too. Each room features a private bath – some with double whirlpool tubs – a plush king or queen bed and mounds of soft pillows. There are fireplaces, wonderful mountain views, and even a private porch adjoining some rooms and cottages.
But beyond just being a cozy and elegant place to stay, there are so many more things that work in concert to make this special place one of the most romantic getaways in New Hampshire. It's also a food lover's paradise, with a deep commitment to unforgettable food.  Those moments spent savoring that food is just as important to what is on your plate. We give you the option to sleep in while we make you a made-from-scratch, gourmet breakfast each morning of your stay. It's a special treat to start your day off in this way, and something we take immense pride in!
The food doesn't stop at breakfast, though. the Sugar Hill Inn is also home to an award-winning restaurant, which has been the recipient of the Distinguished Restaurant Award of North America and the Wine Spectator Award multiple times. Our restaurant goes far beyond providing you exceptional meals, though! The dining experience at the Sugar Hill Inn is an integral part of your stay.
Before dinner, we're happy to share a cocktail, beer, or glass of wine with you, as you share your days' adventures with us and other guests. Once you get to your dinner table, it's yours for the evening. There's no rush to make space – the table is yours to enjoy under ambient candlelight and the dancing flames of a cozy fire.  It's the perfect place for intimate conversation and is just another reason we're regarded as one of the most romantic getaways in New Hampshire.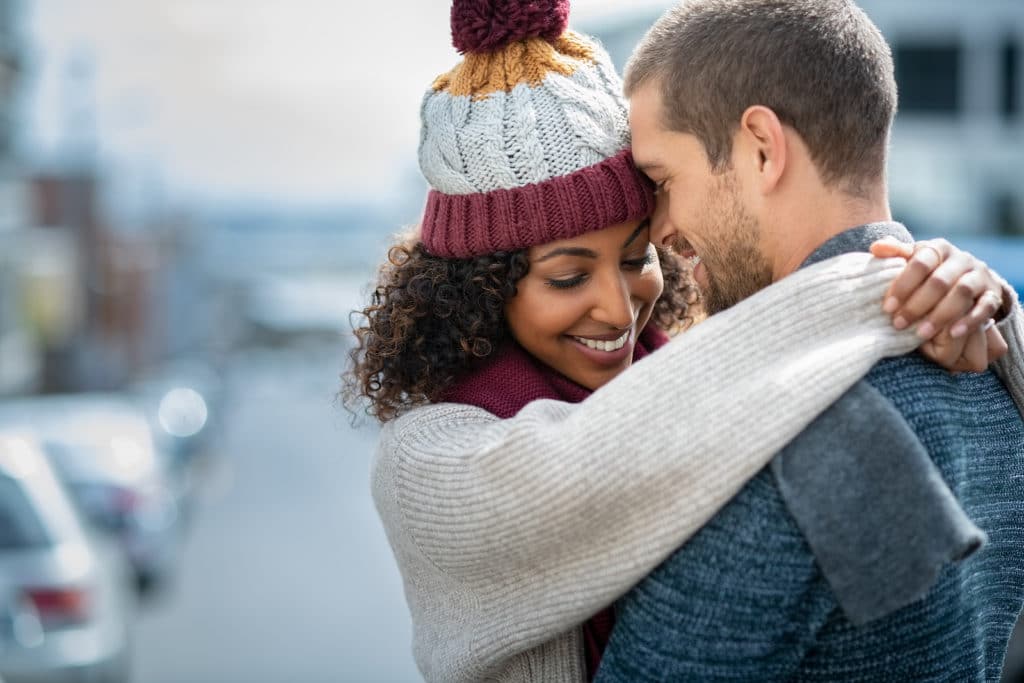 Things to do in the White Mountains This Winter
As you can see, romantic getaways are special when you spend them at our White Mountains Bed and Breakfast. There are few reasons to leave the cozy confines of our Inn during your stay with us, but there is plenty waiting for you when you do.  After all, there are so many wonderful things to do in the White Mountains in the winter! If you haven't seen these majestic peaks during the winter, you are missing out. Here are just a few of our favorite things to do in the White Mountains during these wintry months:
Strap on a pair of snowshoes and explore the beautiful solitude of the outdoors. It's peaceful and magical, and there is nothing quite like it. The Inn has 2 pairs of snowshoes available on first-come-first-serve bases.
There are miles upon miles of cross country ski trails in the White Mountains, but one of our favorite places to send guests is Ski Hearth Farm. Guests at Sugar Hill Inn enjoy tickets for $10 tickets. Rentals not included. Cross Country skiing is also available at the Franconia Village X-C Ski & Outdoor Recreation Center and Bretton Woods Nordic Center.
The White Mountains are home to some of the best downhill skiing and snowboarding resorts, like Cannon Mountain, Bretton Woods, and Loon Mountain.
Go ice skating at the Waterville Valley Ice Arena.
Take a romantic and old-fashioned sleigh ride through your very own winter wonderland at The Mount Washington Hotel.
Take a ride on the snowcoach up Mount Washington Auto Road, and enjoy majestic vistas of the White Mountains from the top. Afterward, enjoy cross country skiing, tubing, and more at Great Glen Trails Outdoor Center.
Pack in even more adventure, and go snowmobiling!  There are a number of trails in the Twin Mountain/Bethlehem area, among other places, and rentals are available.
Whether you plan to spend most of your romantic getaways in New Hampshire indoors, or if you're ready to brave the elements and head outside, we make it easy for you to relax and enjoy the very best of winter here in the White Mountains. Book your room at our romantic Bed and Breakfast in the White Mountains today!