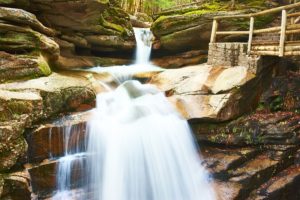 With access to some of the country's best venues for rock climbing, road and mountain biking, hiking and more, New Hampshire's White Mountains are the place to be this summer. Whether you're looking for action packed adventure or a quiet, relaxing escape into nature, there's definitely something for you here. A perennial favorite summer activity in the White Mountains is exploring all of the waterfalls in this beautiful area. Come take a journey with us this summer, and find the best waterfalls in the White Mountains of New Hampshire. Book your room at our luxurious New Hampshire Bed and Breakfast today.
Waterfalls in the White Mountains
It's no secret that New Hampshire is home to some of the best waterfalls in the country. Some are easily accessible, including the popular Avalanche Falls in the Flume Gorge in nearby Franconia Notch State Park, but some are off the beaten path and require a bit of effort. The rewarding views are always worth the effort, though Though there are more waterfalls in the White Mountains than we can name here, you can't go wrong with a visit to any one of these ten great falls near our Inn.
Enjoy a day exploring the incredible White Mountains, seeking some of the most beautiful waterfalls in the state of New Hampshire. When you're done for the day, head back to the luxurious Sugar Hill Inn for a relaxing, romantic evening. Book your room at our Bed and Breakfast in the White Mountains today!