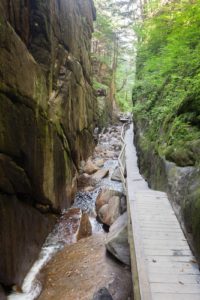 Though it's still pretty chilly outside, the first day of spring has officially arrived. We'll have to wait a little longer for some of the snow to melt, but we're already looking forward to all of the wonderful possibility spring brings to us here in the White Mountains. The White Mountains have long been a popular vacation destination. Most visitors come for the area's extraordinary beauty, and for a chance to enjoy a quiet escape from their busy day-to-day schedules. Popular attractions in the White Mountains include waterfalls, hikes, covered bridges, ruggedly beautiful Mount Washington, scenic drives, and so much more. While there are hundreds of reasons to getaway to the beautiful Sugar Hill Inn Bed and Breakfast, we think these spring hikes have it all. Spend a few days with us, and you'll leave feeling rejuvenated and ready for whatever life throws at you. Book your room at our luxury Bed and Breakfast in the White Mountains today!
The Perfect Spring Hikes in the White Mountains
There are a variety of hikes in the White Mountains, accessible to hikers of all levels. Simple strolls through nature and short trails can lead you to pretty waterfalls and scenic overlooks, and mountain-top climbs will take you to incredible scenic vistas and mountain summits. If you're short on time, you can't go wrong with any of the hikes in Franconia Notch State Park, and our wonderful Innkeepers can help you plot our the perfect trails to explore. To ease us back into the hiking season, here are some of the best spring hikes you can take in the White Mountains:
If you've tried these wonderful hikes and are still craving more adventure, ask your lodging host for more recommendations. We're here to help! After a full day of exploring, sink into the luxuriously appointed guest rooms at our Bed and Breakfast, and take advantage of your home away from home. We have everything you need to make the most of your time in the White Mountains. Book a room at our New Hampshire Bed and Breakfast today.