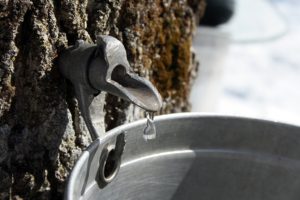 Like much of the country, those of us in the White Mountains of New Hampshire have spent months mired in cold, snowy weather. But, it's almost as if a switch has been flipped, and we can see the light at the end of these dark wintry days. Spring will be here soon enough. But before we get to all of the wonderful things that spring offers, we must talk about the maple sugaring season that will soon be upon us. Maple sugaring is a centuries-old tradition in New Hampshire, and the White Mountains is one of the best places to learn about it's sweet history. Come stay with us at the luxury Sugar Hill Inn in the White Mountains, and get a behind-the-scenes appreciation for maple syrup production.
Maple Sugaring Tour
Have you ever wondered what all goes into the production of your favorite maple syrup? It's a centuries old tradition in New England states like New Hampshire. In fact, the entire month of March is declared Maple Month. This year, the 23rd Annual NH Maple Weekend will be March 24 – 25, 2018, which is a great time to meet the maple producers in the White Mountains. Here are a few of the best places to visit in the White Mountains during maple sugaring season:
Faddens General Store & Maple Sugarhouse is just 20 minutes south of our Bed and Breakfast in the town of Woodstock. The Fadden family has been harvesting maple trees for over 200 years. Each year, they produce over 2,500 gallons of maple syrup at their sugarhouse, and they have been awarded the Carlisle Memorial Trophy for excellence in the production of maple syrup multiple times. The owners often open their sugarhouse to the public for tours and demonstrations during sugaring season.
The Rocks Estate in Bethlehem offers a New Hampshire Maple Experience, a delightful hands-on experience for maple syrup lovers. Tours include a horse drawn carriage ride around the property, a lesson on how to drill and tap a maple tree, and fresh donuts and maple syrup. The NH Maple Experience is scheduled for the last 3 weekends of March and the 1st weekend of April.
Just north of Bethlehem, you'll find the award-winning producer Fuller's Sugarhouse. The Fuller family taps more than 10,500 maple trees each spring, and produce more than 4,000 gallons of pure maple syrup. Stop by during New Hampshire Maple Weekend for free sugar-on-snow, coffee, and donuts, and take a tour of the facility.
When you're not out learning about maple sugaring, relax in comfort and style at the Sugar Hill Inn. Our luxury property is a romantic escape, well known for its fine dining, original art, and stylish accommodations. Book your stay at our award-winning Bed and Breakfast today.