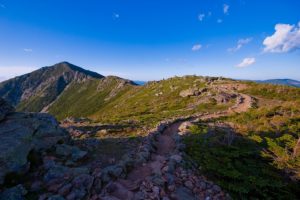 Summer is in full swing in New Hampshire, and our calendar is booking up fast. There's still plenty of time to plan a summer getaway, though. The beautiful Sugar Hill Inn Bed and Breakfast, nestled in New Hampshire's stunning White Mountains, is the perfect getaway destination this summer. The White Mountains in New Hampshire have long been a popular destination for tourists in the New England area. Most visitors come for the area's extraordinary beauty, and others come for a quiet escape from their busy lives. Popular attractions in the White Mountains include waterfalls, hikes, covered bridges, ruggedly beautiful Mount Washington, scenic drives, and so much more. Whatever it is you've come for, you'll leave feeling rejuvenated and ready for whatever life throws at you. Book your room at our romantic Bed and Breakfast in the White Mountains today!
5 Great Hikes in the White Mountains
The White Mountains are the perfect destination for adventurous couples and outdoor enthusiasts. There are a variety of hikes in the White Mountains, accessible to hikers of all levels. You can find short trails and loops that lead to pretty waterfalls and scenic overlooks, as well as longer and more grueling hikes to scenic vistas and mountain summits. To help make your planning easier, we've put together a short guide to what we consider 5 of the best hikes in our area. You can't go wrong with any of them (or really, any others you may find as well). Each of them offers incredible scenery.
Franconia Ridge Loop Trail
We'll start off with one of the best. Simply put, the Franconia Ridge Loop Trail is the best hike in the White Mountains, if not the world. National Geographic agrees, as they just named it one the world's top 10 best hiking trails. The trail extends for 8 glorious miles, and across 3 different mountain ranges. All in all, it's a grueling effort, but one that pays off in ways unimaginable.
Artists Bluff Trail
The Artists Bluff Trail on Bald Mountain is a relatively easy 1.5 mile hike, and is accessible to most hikers. From here, you'll enjoy colorful wildflowers and an unbelievable view of Franconia Notch and Echo Lake, without all of the work required of a more grueling hike.
Arethusa Falls
Waterfalls are big here, and there are a lot of them. Therefore, we had to include at least one hike to a waterfall, and Arethusa Falls is a good one. These gorgeous horsetail-style falls drop a stunning 160 feet. If you want to add on to your adventure, extend the hike to nearby Ripley Falls, and maybe even up Frankenstein Cliffs. The cliffs are even popular during the winter months, when ice-climbers head out for their adventure. These trails are also suitable for snowshoers during the winter months.
Middle & North Sugarloaf
If you're looking to maximize your views for your time, Sugarloaf is the hike for you. A quick 2.6 mile hike will lead you to Middle Sugarloaf. From here, you'll enjoy some of the finest views in the White Mountains. Add on a little less than a mile, and you'll find yourself at North Sugarloaf, which also offers excellent viewpoints of the region.
Tuckerman Ravine to Mount Washington
We'd be remiss to talk about hiking in the White Mountains without including its highest peak, Mount Washington. The rugged hike up Tuckerman Ravine is exceptionally beautiful, and this is one of the most popular routes to reach the summit of Mount Washington. During the summer months, you definitely won't be alone on the trails, but the payoff views are worth it. The total trip is a tiring 8.4 miles, and is definitely for those more experienced hikers among us.
If you've tried these wonderful hikes and are still craving more adventure, try the trails in Franconia Notch State Park, or ask your lodging host for more recommendations. We're here to help you make the most of your stay! After a full day of exploring, we know you'll need time to rest before your next adventure. It's time to sink into the luxuriously appointed guest rooms at our Bed and Breakfast, and take advantage of your home away from home. To get started on your next summer adventure, book a room at our New Hampshire Bed and Breakfast today.