Chapter 14 The Art of Innkeeping
To me there is a big difference between a full service country inn and a bed and breakfast, but many refer to both as a bed and breakfast. So if you are a bed and breakfast it is extremely important that those two components, the bed and the breakfast are taken very seriously and we do.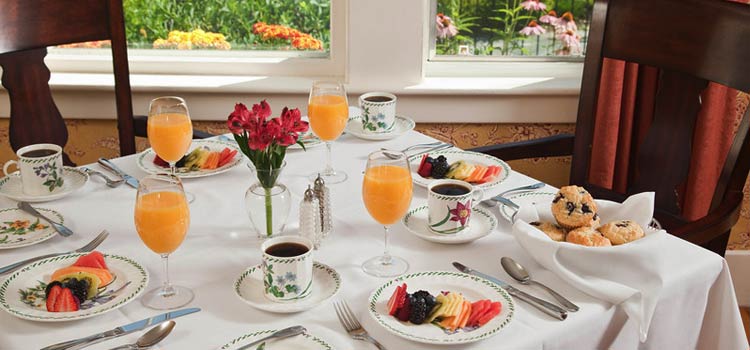 One of the reasons for the popularity of the bed and breakfast is that a top notch breakfast beautifully served creates a memorable experience in addition to tremendous value. To duplicate our breakfast at the famous pancake parlor up the road would cost over $30 per couple and the same breakfast at a Boston or New York Hotel with tax and tip could easily be $60 to $70 or more.
At the inn I wear many hats and being breakfast chef is one of my jobs. Over the past eight years I have probably made over 25,000 breakfasts. During that time I have intently focused on what people want. I have analyzed what people order, have listened to feedback, studied comment cards and reviews and have stayed at other inns to see firsthand how others handle breakfast. The result of all this study is that there is no consensus although I have identified some helpful insights.
My response has been to focus on choice. It has always surprised me on the number of inns and I mean good inns that don't offer a choice. There is no menu and stuff just comes. They claim that they offer a selection by rotating daily between an egg entrée and a pancake type dish. If you are there on an egg day and you don't like eggs you are stuck. So why do they do that? It is the easy way out. They know their exact guest count and they can mass produce some egg dish. This is why so many inns serve baked eggs. The folks who arrive first will find it at the peak of perfection and those who come near the end of breakfast will find their eggs to be over cooked and dry. To me hospitality is doing what is best for the guest.
At the Sugar Hill Inn guests arriving for breakfast are greeted by my wife Karen and are invited to sit anywhere they like. Everyone has their own table. I dislike properties where everyone is forced to sit at a communal table. Not everyone is in the mood to be social at 8:00 am. Karen offers coffee, tea or cappuccinos. I like having cappuccinos on the menu because so few inns have them and it reminds me of the hospitality I received while traveling in Italy. Cappuccinos are individually made and it's our way of sharing the love of hospitality with guests.
In the real world too few of us really have time to sit down and enjoy a leisurely breakfast. To those that drink their coffee from a paper cup at their desk or the parents that are rushing to get the kids out the door we want to share the luxury of a leisurely served breakfast. The elegance of our dining room, combined with personal service, mountain views and a multi course breakfast is an integral part of the Sugar Hill Inn experience. I like tranquility in the morning. We once stayed at this very expensive bed and breakfast in Ashville, North Carolina and the Innkeeper was a Jay Leno want-a-be and did a monologue that lasted throughout breakfast. It was so annoying we went elsewhere the next morning.
Served with coffee is always the bakery of the day and honey butter. We whip New Hampshire honey into the butter. The bakery of the day is always homemade. Guests frequently ask for my raisin scone recipe. The next course is always fresh fruit. Karen is in early to prepare the fruit cups or plates. The fruit course is served while the entrée is being made. There is always a choice for the entrée between an egg type dish and a pancake type dish. For the eggs it might be our famous crepe filled with scrambled eggs, ham and cheese, a French Rolled Omelet or a scramble with sautéed vegetables and local cheese. For the pancake type entrée we frequently feature Blueberry Buttermilk Pancakes, Waffles topped with Berries, Ricotta Lemon Pancakes or Cream Cheese and Strawberry Stuffed Cinnamon Raisin French Toast. These entrees are served with apple wood smoked bacon. Many people have asked us about where they can buy this bacon but unfortunately it is only available to restaurants. In keeping with our strong belief in choice we also offer our homemade granola, English muffins with locally made jams and Special K with skim milk and banana. Vegans especially like the English muffins.
It was my original intent to serve a very innovative and gourmet breakfast. I soon learned that was not what most of the guests wanted. Even those that were adventurist in the evening want traditional comfort food for breakfast. How do I know this? I would for example offer both an omelet with fresh crab and scramble eggs with cheese and the simple scramble eggs would outnumber the more gourmet offerings by 2 to 1. It surprised me that there was little interest in items like crab cakes or homemade gravlax. Some guests even find goat cheese to be scary. I have also given up on the whip cream on the French toast. As a chef I loved to use whip cream because it makes the plate look so beautiful but 90% of the guests were saying hold the whip cream. It's important to listen. On a trip to Napa I discover this cook book from a local and very expensive inn that served these decadent deserts like breakfasts featuring dark chocolate in many of the recipes. I tried this one recipe where fresh fruit was presented in this chocolate cookie shell. Visually it was a sensation and tasted equally good, however no one was fazed. Recently Val has adapted the recipe for a dinner dessert with much better success.
Even though we were going to focus on traditional breakfast food, with an occasional deviation, I certainly needed to differentiate myself from the local diner. I do this by using the best local ingredients and creating visually appealing plates. Topping the eggs with local cheese, brightly colored sautéed vegetable and fresh parsley, not only taste better then plain old scramble eggs but is visually delicious. Fresh fruit and a touch of powdered sugar on a pancake can do the same thing. The owner before me used a commercial pancake mix but to me that is cheating. It is easy to make them totally from scratch and you can taste the difference.
I also discovered that although guests want to indulge in items such as bacon that they don't regularly eat at home, they want to do it in moderation. We are often thanked for not over doing the portion size. Our guests are generally active and fit and are looking to balance the pleasures of a great breakfast with plans for the day. However, if you are a big guy, don't worry, I am happy to send out your pancakes with a side of eggs and extra toast.
Guests are coming to the inn for an authentic New Hampshire experience, so we focus as much as possible on local products. Our eggs come from a farm in Sugar Hill less than a mile away. Farm fresh eggs from cage free hens just taste better. We also buy local maple syrup by the case. At $50 a gallon it's expensive but it's worth it. At a retail store it can cost double what we pay. Our jams and jellies are made for us in Lancaster, NH. Even our coffee is roasted in New Hampshire. We place our order on Tuesday; it's roasted on Wednesday and delivered to us on Thursday. In the summer we grow our own herbs and buy from local farms. We also served Harman's cheese, aged two years in Sugar Hill, and many other local cheeses. We have been Certified Local as part of the NH Farm to Restaurant Connection.
Another important principle is cooking everything to order. Many inns don't do this. Sure it's more work but it's worth it. Items like pancakes and eggs just are not meant to be made ahead and sit in a warming oven.
Special diets are becoming increasing common and we do our best to accommodate. We do ask if you do have special needs to let us know ahead of time so that we can buy the soy milk or eggbeaters that you require. Gluten free is very common and easy to accommodate. We have gluten free pancakes and waffles and potatoes can be substituted for toast. Dairy free is also common. For extreme diets sometimes it is more helpful to know what one usually eats instead of everything they don't eat. Special diets can slow down the kitchen on a busy morning so hopefully guests will use good judgment when making special requests.
We generally seat our guests between 8 and 9 am. On busy mornings we extend the time to 9:30. It generally only takes about 5 minutes for me to produce entrées for a table of two. On most days this works really well. Occasionally everyone arrives together and then those 5 minutes can add up. On busy days being well prepared is important. To be ready for a full house on a Sunday morning I usually arrive by 6:00 am.
Our concept is not cast in stone and I am sure that it will evolve as tastes and styles change.
Granola
3 cups rolled oats
1 cup slivered almonds
1 cup cashews
¾ cup shredded sweet coconut
¼ cup brown sugar
¼ cup Sugar Hill maple syrup
¼ cup vegetable oil
¾ teaspoon salt
Preheat oven to 250.
Combine oats, nuts, coconut and brown sugar. In a separate bowl combine all wet ingredients and salt. Combine both mixtures and pour onto 2 sheet pans. Bake for 1 hour and 15 minutes, stirring every 15 minutes. Let cool and then add the raisins. Makes about 6 cups of granola.
Raisin Scones
2 cups flour
3 tbsp sugar
1 tbsp baking power
½ tsp salt
5 tbsp unsalted butter, very cold, cut into cubes
½ cup raisins
1 cup heavy cream
Preheat oven to 425.
Add the dry ingredients into a food processor and pulse. Then add butter and pulse 15 times. Add raisins and pules again. Move the contents to a mixing bowl and add the cream. Mix with a spatula and then turn out onto parchment paper and lightly knead. Shape by pressing into 9" ring from a springform pan. Unmold and cut into 10 wedges. Bake 12-15 minutes. Serve with strawberry butter.
Blueberry Sour Cream Muffins
12 tablespoons unsalted butter
1 1/2 cups sugar
3 large eggs
1 1/2 teaspoons vanilla extract
8 ounces sour cream
1/4 cup milk
2 1/2 cups all-purpose flour
2 teaspoons baking powder
1/2 teaspoon baking soda
1/2 teaspoon salt
2 cups fresh blueberries
Preheat the oven to 400 degrees F. Place 16 paper liners in sprayed muffin pans.
Cream the butter and sugar until light with an electric mixer. Slowly mix in the eggs, vanilla, sour cream, and milk. In a separate bowl, measure the flour, baking powder, baking soda, and salt. With the mixer on low speed add the flour mixture to the batter and beat until just mixed. Fold in the blueberries with a spatula. Scoop the batter into the prepared muffin pans, filling each cup just over the top, and bake for 20 minutes, until the muffins are lightly browned on top and a cake tester comes out clean.
Want to know more? Read our book "Sugar Hill Inn Art of Innkeeping." Available from Amazon and Barnes and Noble.