Chapter 10   The Art of Innkeeping
I don't understand it but I am a restaurateur.  I own what many think is the best restaurant in the White Mountains.  Besides from some momentary fantasies, I never envisioned myself owning a restaurant.  Life has so many twists and turns that defy the best of plans.
The restaurant is a tale of two men; the Executive Chef Val Fortin and myself.  In all honesty our Executive Chef Val deserves most of the credit.  I will go into great detail about Val in a latter chapter but for now let's begin with my story.
My interest in food began in my childhood.  Both of my grandfathers were in the food business.  Food in my family was talked about more than the weather.  We were experimenting with avocado, asparagus, artichokes, and heart of palm long before the food network or Julia Child made these items popular.  My parents would never visit a fast food restaurant.  My mother would always grind her own hamburger meat.      I was a freshman in college, the first time I went to a McDonalds and I learned that ground beef at a fast food restaurant does not automatically cause food poisoning.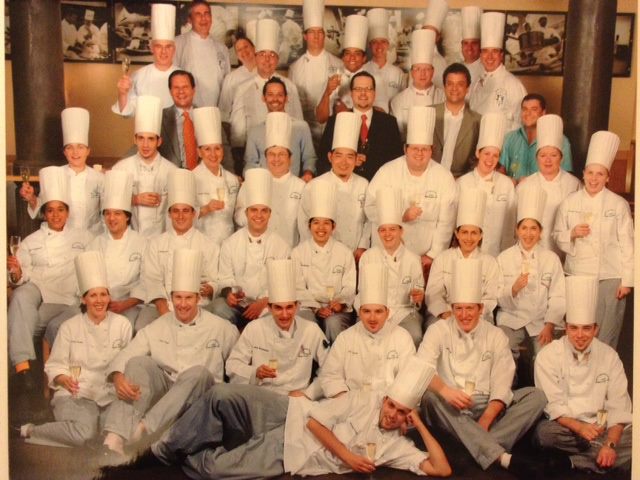 My Dad was in the chemical industry with an office in New York City.  Since the products were abstract and there were no tires to kick, business was frequently done at lunch.  The late 50s and early 60s were the days of the three martini lunch. Although he was always smart enough to keep sharp while others were over doing it.  My mother would frequently join them for the important clients that were entertained at dinner.  Just like Darin and Samantha on Bewitched.  The next day my Mother would tell me all about what she ate and how it was served.
I was an early fan of the Galloping Gourmet and Julia Child and would watch them with my mother.  The way Graham Kerr ran around the kitchen with a glass of white wine made cooking look fun.  Doing chores around the house was part of my childhood.  While my brother preferred to help Dad with the yard work, I preferred to help in the kitchen.
My parents traveled on business a lot to Europe in the late 50s and early 60s and were exposed to a food culture that had not developed yet in the states.  After a trip to Switzerland, my father, who never cooked, made us a cheese fondue.  He approached it with the precision of a scientist.  They had also discovered white asparagus and liquors such as Grappa.
On school vacations, as a family, we would spend a day in New York City.  My father would go to his office and my brother Jeff, Mom and I would go sight seeing or shop and join my father for lunch at a nice restaurant.   Around the corner from my Dad's office was Giambelli's Restaurante located on Madison at 37th street.  Many of the dishes were prepared table side and my eyes were glued on the show.  The Maître De in those days was so well train.  Neatly filleting a whole fish table side while being watched is a long lost skill at all but the most expensive restaurants.  They would always make veal piccata with artichokes for my Mother even if it was not on the menu.  No way was I going to eat from a children's menu.  If it wasn't good enough for my Mother I was not interested.
When I was about 12 I discover the recipe for veal picatta, in Gourmet Magazine and I cooked my first really gourmet meal.   Over the years I would make this recipe hundreds of time.  This first recipe taught me that great food requires quality ingredients and carefully preparation.   I discover an Italian butcher shop that would cut the veal very thin.  Supermarket veal was way too tough for this dish.  I studied the recipe intensely and followed the instruction precisely.  I would pound the veal even thinner, add salt and pepper to flour and lightly dust it.  This was long before animal rights activist had a problem with veal.  I would sauté my veal a few pieces at a time until lightly golden on both sides.  The smell of the butter and olive oil cooking together was heavenly.  The next steps were deglazing the pan with white wine, adding fresh lemon juice and thin lemon rounds.  Because the pan still had some residual flour these ingredients form a light sauce.  The artichoke Hearts and the veal would be added back until hot.
In high school I learned of the CIA in Hyde Park, NY but I was not encouraged to attend.        This was long before it was cool for a guy to go to cooking school.  Instead I followed the path of least resistance earning a liberal arts degree followed by a MBA degree. For the next 30 years cooking would be just a hobby and a part of everyday life.
When my daughter Sara was in high school we would from time to time take classes at that the Natural Gourmet Cooking school in New York City.  After my wife passed away I became a vegetarian for a while and this school had wonderful classes.  There is a lot more to vegetarian cooking then just pasta.  Their curriculum also included fish and healthly meats.  They also offered a 6 month profession chef program and I decide that taking the program would be a fun thing to do and most likely useful before buying an inn.
The Natural Gourmet School was taking a long time to process my application so to play it safe I interviewed at the French Culinary Institute.  The Halls of the school were line with photos of famous chefs who all got their start at the school.  Bobby Flay was one of their first students.  I learned that Jacques Pépin, André Soltner, Alain Sailhac along with other famous chefs were on the board of the school and would each do several cooking demos a year for students.  These were legends in the culinary world.   This was clearly the Harvard of the cooking world.  How could I not go?  So I accepted an offer of admissions and put on the waiting list for the first available seat.
The program was hard and intense.  We would do more in 6 months then those junior college programs did in 2 year.  French terms were used for everything and you just needed to catch on quickly.  The program was completely hands on and you would be on your feet all day.  The goal of the program was to train chefs for 5 star restaurants.  These were not recipes that you would do for family.  Technique was everything.  There was only one right way to do something.  The answer to every question was, Yes Chef!
If you were working on something and you were asked,   "What is this", You knew that you had screwed up and no answer would be correct and it was time to start again.  It was important to come to school prepared.  I commuted to the city from Jersey and would read my assignments and review the recipes for the day on the train.  We had frequent written tests.  I would remake many of the recipes at home on the weekends.  You needed to be totally open to all kinds for food because we cooked everything.  In the process of going to school it became clear to me that although I loved learning about food and enjoyed the school, I did not want to spend all day in the kitchen.
As I discussed in an earlier chapter, I took a weekend class in inn-keeping.  In the class I learned that inns with restaurants generally are no more expensive that a Bed and Breakfast with an equal number of rooms.  There is good reason for this.  Country Inn Restaurants generally don't earn much and consume tons of time.  Seasonality and the lack economies of scale are responsible.  If you are in a community with lots of great places to eat, such as Napa Valley, CA there is no need to reinvent the wheel.  Inns run restaurants, because great restaurants help to sell rooms.  This is especially true in rural setting.  Guest can enjoy a great bottle of wine and not worry about finding their way back to the inn on dark and unfamiliar roads.
When I was looking for the perfect property to buy, I was primary focused on the lodging side of the business.  I avoided properties that were primarily restaurants and had only a handful of rooms.
At the time I purchased the inn it was serving primarily to inn guest on the weekends. The exception was during the busy fall season when dinner was served nightly.  The prior owner was a professional chef with a good reputation.  Their focused was on a moderate priced New England Country food.
My offer to buy the inn was accepted in January 2006 but the closing was not until early May.  This gave me four months to re-envision the Sugar Hill Inn.  Although it had been an inn since 1929 the new Sugar Hill Inn would be so different it felt like a new startup instead of just a change of management.  I did not want to run just an average inn and restaurant.  I knew that the turnaround would not be easy and would take time.  I spent a good portion of that time planning and perfecting a new menu.