1.  Millers Café and Bakery, Littleton, NH  (603) 444-2146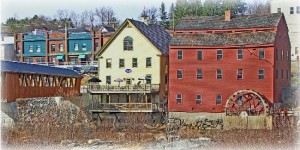 Creative sandwiches, soups and salads.  My favorite is the Yankee Pot Roast Flip Bread Sandwich.  Be sure to visit the Gris Mill located next store. Delightful deck with scenic river views, tasty food and the willingness to take credit cards puts Millers in the number one spot.
2.  Cold Mountain Café, Bethlehem, NH  603- 869-2500
Explore the art galleries and antique shops of Bethlehem and then have lunch at this neighborhood gem.  My favorite is the Grilled Santa Fe Veggie Burger.  Beer and wine are available.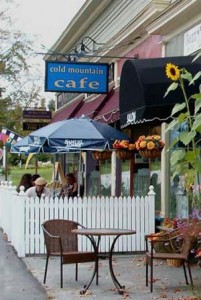 3.  Wendell's Deli, Franconia, NH  (603) 823-5141
Wendles is base camp for serious skiers, hikers and artistic hippies here to experience the great outdoors known as Franconia Notch.  Check your email, read the newpaper and select a creative sandwich from the large black board.  They also have excellent coffee and they take being green seriously.  Bring cash; credit cards would spoil the quaintness.
4.  Mount Washington Hotel, Bretton Woods   603-278-1000
The Mount Washington is the perfect lunch spot on your scenic drive around the White Mountains.  It is one of the few remaining grand hotels in NH.  Sit out on the back deck and order anything.  It's all good.  The views are so captivating that is all that you will remember.
5.  Polly's Pancakes Sugar Hill, NH 603.823.5575
Polly's has been serving pancakes for 73 years.  No trip to the area would be complete without a trip to Polly's.  I recommend coming for lunch when they are less busy and having the Pancake Sampler.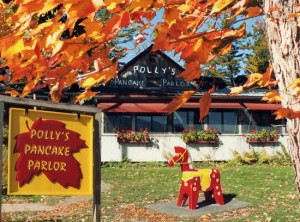 6. Chang Thai Café, Littleton, NH  603-444-8819
In the heart of downtown Littleton Chang Thai offers a $6.99 lunch special that is light, healthy and delicious.
7.  Woodstock Inn, Station & Brewery North Woodstock, NH      603-745-3951
On a nice day enjoy the outside patio.  The burgers and fries are great.  Order the Brew Sampler and get five 3 oz. glasses of their home brewed beer.
8. Littleton Diner, Littleton, NH   603-444-3994
If you love old diners you will love this classic 1930's diner.  I always order a Turkey Club, fries and a coke.  Work off lunch with a nice walk on Main Street.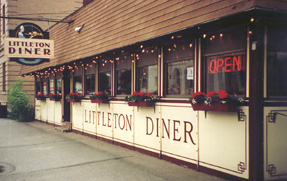 9.  Bailiwicks, Littleton, NH  603-444-7717
When the other lunch places seem too casual I recommend Bailiwicks.  The perfect place for a Martini lunch or to meet a blind date. Go for the Towering Lobster Club.
10. The Littleton Food Coop, Littleton, NH  603-444-2800
The prepared foods department has made to order sandwiches, salads, local cheeses, and a selection of hot items.  There are tables both inside and outside but I recommend taking it out for a picnic with view.  Afterwards go to Bishop's for homemade ice cream located a few doors down on Cottage St.
11. Latitude 44 Restaurant, Bretton Woods, NH  603-278-3320
In summer take the free chair left to the top of the mountain for a lunch with expansive views of Mt. Washington and the Presidential Range.   Enjoy a selection of sandwiches or burgers.
12. The French Sisters, Littleton, NH  603-991-9233
A great bakery plus coffee, soups, sandwiches and salads.