Chapter 6: The Art of Innkeeping
In 2006, what I loved about the Sugar Hill Inn was its potential to be great some day. It had 15 acres, great views, and a farm house dating back to 1789. However, the roof was bad, the paint was peeling, the plumbing was old and the water smelled bad among other things. The prior owners had deferred maintenance when possible and many projects were not professionally done creating bigger problems down the road. Anyone that has ever owned an older home understands that I bought a money pit.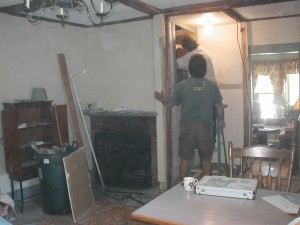 I set out ambitious goals for the first year. A week after buying the inn we received our first and only horrible trip advisor review. They said the water smelled, the cottage was unbearably hot and that their room was infected with bees. We knew that we needed to move quickly. In our first year we set out to replace the roof, air-condition the inn, and build a pool, improve the landscaping, and renovate the main floor of the inn. Some of these projects took longer than planned and all of them cost more than anticipated.
The thing about living up here is that everyone knows everyone. My lawyer referred my decorator, my decorator referred my landscaper, and my landscaper referred me to two very talented carpenters. When I first met Carl and Jeremiah it could been an episode straight from the Bob Newhart show. Fans of that show certainly remember Darryl, Darryl and Darryl. The three brothers that would take on any job. Jeremiah had this full bushy beard and Carl was an older man with long grey hair tied in a pony tail. It didn't take long to realize that looks can be deceiving and these were two very talent men.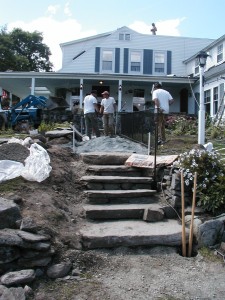 Their first job was to fix our rotting sign post before it collapsed. The next job was even more important. The Bickford Suite had no bathroom door. Theresa and I were embraced to sell the room. How could you have a room with no bathroom door? Didn't anyone notice? This was not a job for a weekend warrior since the floor sloped in one direction and the ceiling in the other. Measuring up from the floor or down from the ceiling wouldn't work here. Also, a door from home depot would look serious out of place and compromise the historic integrity of the inn. Carl and Jeremiah found the perfect period door at a savage yard. It was becoming apparent that these were no ordinary handymen. It turned out that a big project that was to take them all summer had just fallen thru. This was our gain.
For the next several weeks Carl and Jeremiah were busy fixing everything. Over hearing a discussion with our decorator they learned that we were planning to build a bar and a library. They said, "Now this is what we really enjoy doing, the other stuff just pays the bills". Carl and Jeremiah were full of ideas. They had passion for restoring older homes and using reclaimed building materials. Carol, our decorator, found us an antique foot rail that determined the arch of the bar. They recommended using wood from an old bowling alley from MA, antique mirrors found at Admac and beautiful Vermont soap stone. Today this boutique bar is loved by our guests and it is the focal point of the Tavern Room. They were also responsible for the Library. Their custom built cabinets and book shelves blend so well with the surroundings you would never know that they weren't original to the house. Books add such a positive feelings and warmth to a room. A year later Jeremiah would be our contractor for the Dream Cottage.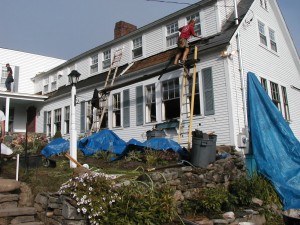 "You don't need air-conditioning in the White Mountains; we have a lovely mountain breeze". That's a lie, don't believe it. The fact is that it can get hot here. We weren't going to pull that con on our guests. The former owner had a few window units that he would install if a guest complained. Most inns and White Mountain hotels solve their air-conditioning problem with window units but they are noisy and block the view. I remember seeing an inn here in NH where the owner, every spring, carried air conditioners up 3 flights of stairs and in the fall back down. I was certainly not going to do that. In an older building like ours, running duct work is almost impossible. We decided to install a ductless system by Sanyo. They are very energy efficient and quiet and every room has its own controls. The first estimate of $50,000 seemed crazy but all the others were even higher. The job took all summer. Every room has its own compressor outside and both the inside unit and outside units needed electricity so the electricians also spent the summer with us, ring up huge bills.
Another big project for 2006 was a Pool. The state has very strict standards for commercial pools and most pool contractors were not interested in the job. Custom Pools won by default. The contract was full of unlikely contingences that would cost extra if they occur and of course they did. We also wanted a hot tub but current health regulations made it too complex. Most whirlpools used in Hospitality would not meet today's health regulations.
Many innkeepers think that pools are for children and therefore have no interest in them but that was not my vision. I pictured the pool being a quite oasis where adults could relax, enjoy quite conversation and take in the view of Mt Layette. This pool was inspired by my father's memory. My dad worked very hard and his idea of a vacation was a beautiful and quite pool to sit by with a good book. I spent hours staking out the pool to get just the right views. The waterfall into the pool lends a tranquil fell to the entire back yard. The pool is loved by our guests and validates our concept.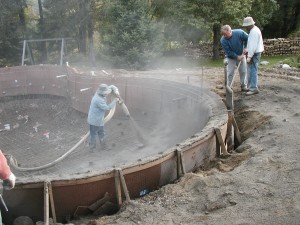 Tom Bartlet, a friend of Jeremiah became our roofer. Tom, a roofer in summer, spends his winter running dog sleds. Toms' sleds were built by Carl and Jeremiah. For two weeks Tom's big crew was everywhere.
The next problem was the water. Safety was never an issue. By law our well is tested several times a year by the state lab. We learned that our water has a high magnesium content and that gives of a sulfur smell. Here again we were puzzled that no one had addressed this issue sooner. Culligan design a treatment system that included carbon filtration and softening. About every three years the activated carbon needs to be replaced at the cost of $1000. We recently had a relapse of water issues and solving it meant becoming a water chemistry experts. Many hot water heaters have magnesium anodes that help prevent corrosion and therefore extend the life of the water heater. However, if you run softened water thru such a system the anodes add too much magnesium to the water causing the hot water to smell. The magnesium anodes have been replaced and the water tastes and smells great.
If our efforts were to payoff, in increased occupancy, we had another problem. Much of the inn's basic infrastructure could not handle more guests. Reservations took too long to process, the kitchen had no ice machine or even a working dishwasher and the laundry facilitates were inadequate. All of these problems were also fixed in the first year.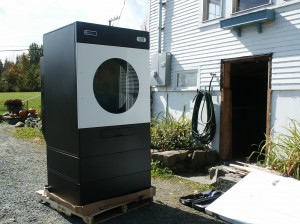 As the cool winds of November began blowing Carl and Jeremiah were winding down there work for the season. Winter was ski season and they would not be available again until next spring.
Want to know more? Read our book "Sugar Hill Inn Art of Innkeeping." Available from Amazon and Barnes and Noble.