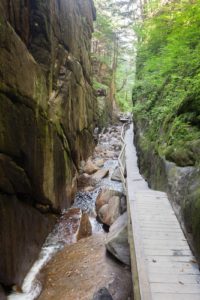 We're lucky to be surrounded by such incredible beauty in the White Mountains of New Hampshire. There are plenty of beautiful parks to wander through, peaks to climb, and towns to explore. But one of our favorite places, which we happily return to time and time again no matter the season, is Franconia Notch State Park. It's a truly special place, and one that certainly needs to be on your itinerary anytime you're near the White Mountains. Best yet, it's less than 10 minutes from our luxury Bed and Breakfast. Take the time to explore this gem with us this summer. Book your room with us today.
Franconia Notch State Park
Franconia Notch isn't just another State Park: It's a place filled with wonder. It's bordered on the south by the stunning Flume Gorge, and by the serene Echo Lake on the north. Once there, you can enjoy miles upon miles of hiking trails, biking trails, an aerial tramway that takes you to the top of Cannon Mountain, rock climbing, birding, fishing, or just relaxing, surrounded by the gentle sounds of Mother Nature. A few highlights of Franconia Notch State Park include:
Flume Gorge
The Flume Gorge is, without a doubt, the absolute highlight of your visit to Franconia Notch State Park. The Flume is open May – November, and is a natural 800 ft. long gorge. As you walk through the gorge, walls of granite rise from between 70-90 feet above you, and are only separated by 12-20 feet of space. At the top of the gorge is Avalanche Falls, a 45-foot waterfall.
Aerial Tramway
The Cannon Mountain Aerial Tramway was the first passenger aerial tramway in North America, and has been in operation since 1938. You'll enjoy a scenic 8-minute ride to the top of the 4,080 foot summit of Cannon Mountain, where you'll enjoy panoramic views of the surrounding valleys and mountains. The tramway is open from May – October.
The Basin
The Basin, a large pothole in the Pemigewasset River, was formed around 25,000 years ago by a glacier. It's a beautiful granite bowl, and easily accessible just off the main highway through the Franconia Notch.
Echo Lake
Echo Lake is a beautiful and serene place to spend the day. It offers beautiful views of Lafayette and Cannon Mountain, and is a great place for both fishing and boating. Boat rentals begin for the season on May 26, 2018.
Afterwards, a gourmet dinner and the luxurious accommodations at the Sugar Hill Inn will be waiting for you. Book your trip to New Hampshire's White Mountains today!